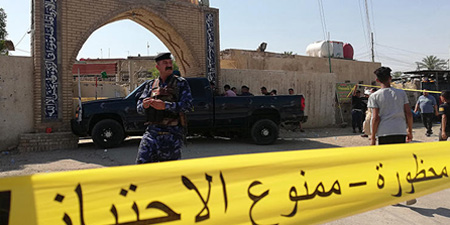 JournalismPakistan.com July 02, 2019


BEIRUT — Iraqi authorities should investigate the armed raid against the Baghdad offices of Al-Journal and 7C TV and determine if the perpetrators were acting on behalf of a member of parliament, the Committee to Protect Journalists said on Tuesday.
On June 22, in central Baghdad, more than 20 armed men raided the offices of independent Iraqi newspaper Al-Journal and its affiliated broadcaster 7C TV, held the outlets' employees inside during the raid, destroyed computers, cameras, and other equipment, and seized documents, broadcasting equipment, and vehicles belonging to the outlets, according to a statement from Al-Journal, news reports, and local press freedom groups.
Al-Journal Editor-in-Chief Ahmed al-Saleh told the Press Freedom Advocacy Association in Iraq, a local independent advocacy organization, that the men identified themselves as private security forces employed by Hamad Yousef al-Musawi, an Iraqi member of parliament, whom they claimed had purchased the office building. Al-Saleh told the press freedom group that the news outlets had signed a lease on the building in 2016 and were not aware of any change in ownership.
An Al-Journal employee who spoke to CPJ on the condition of anonymity said that the raid came days after the newspaper published a story that detailed corruption allegations against al-Musawi.
The employees were allowed to leave four hours after the raid began, al-Saleh said.
"Sending armed guards to raid a newsroom, hold journalists, and seize their equipment over an alleged property dispute is a clear attempt at intimidation," said CPJ Middle East and North Africa representative Ignacio Miguel Delgado. "We condemn the raid on the offices of Al-Journal and 7C TV and call on Iraqi authorities to do their utmost to ensure journalists' safety."
The Al-Journal employee who spoke on condition of anonymity said that the men who raided the office searched for documents relating to the corruption case, but also inflicted unnecessary damage to the outlets' property and the journalists' cars.
In an interview given to Iraqi news website Nas News, al-Musawi denied any affiliation with the men who raided the offices. CPJ reached out to al-Musawi for comment through his website but did not immediately receive a response.
CPJ emailed Iraq's Interior Ministry for comment but did not immediately receive a response.— A CPJ News Alert/Photo: AP