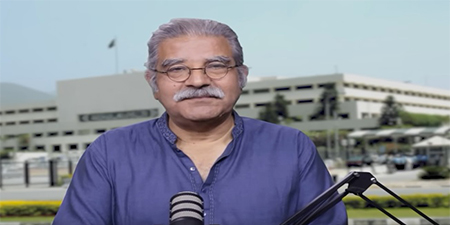 JournalismPakistan.com May 30, 2023


ISLAMABAD—BOL News President Sami Ibrahim, who was abducted on May 24, has returned home safely, much to the relief of his family, friends, and the journalist fraternity.
"Good news for all friends, senior journalist and anchor Sami Ibrahim has reached his home," announced Afzal Butt, President of the Pakistan Federal Union of Journalists on Twitter.
Ibrahim, a prominent journalist, who is also an American citizen, was kidnapped by unidentified individuals in Islamabad on May 24. Concerns were raised about his safety and well-being during his captivity.
Journalist Wajahat S. Khan tweeted: "Journalist Sami Ibrahim has returned several days after being 'abducted' by unknown actors, presumably Pak Intel operatives. I may be wrong, but his US Citizenship may have come to his rescue. Not quite sure what fate awaits—or has met—Imran R. Khan, who was picked up 3 weeks back."
The Islamabad High Court had been actively involved in the case regarding Ibrahim's kidnapping and had expressed dissatisfaction with the progress of the police investigation, which many people felt was slow and lacking urgency.
A picture posted on social media showed a smiling Sami lying in a hospital bed. His friends and well-wishers expressed their relief, mentioning that he appeared to be safe, well, and in high spirits.
While journalists have found solace in Ibrahim's return, concerns remain about another colleague, Imran Riaz Khan, who has been missing since May 11. Afzal Butt stated that PFUJ would continue to strive for Imran Riaz's recovery, highlighting the importance of journalist safety and security.
The safe return of Sami Ibrahim has brought some reassurance, but it also underscores the need for further efforts to ensure the protection of journalists.