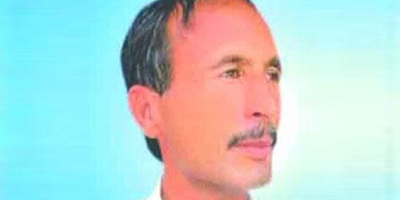 JournalismPakistan.com October 14, 2013
Reporters Without Borders says it is appalled to learn that newspaper reporter Ayub Khattak (picture) was gunned down outside his home in Karak district, in the northwestern province of Khyber Pakhtunkhwa, on October 11.
"We offer our heartfelt condolences to the Khattak family," Reporters Without Borders said. "The initial information available to us strongly indicates that this murder was linked to Khattak's journalistic activities. We urge the authorities to do everything possible to shed light on this tragedy and to focus on the probability that he was killed in connection with his work.
"Khattak is the seventh journalist to have been murdered in Pakistan since the start of the year. Media personnel must be given more security. The causes and forms of violence against journalists vary from region to region but the common feature is that it is not letting up. The federal authorities must step up their efforts to protect journalists."
A reporter for the Karak Times, Khattak was shot by two men on a motorcycle who were waiting for him near his home. After initially asking him why he was investigating their drug dealing, they returned 15 minutes later and shot him several times with a Kalashnikov. He died while being taken to hospital.
Khattak, who was used to being threatened in connection with his reporting, had been investigating an increase in drug dealing in the Wrana Mir Hassankhel neighborhood. His family said he was not involved in any personal dispute and that the motive was clearly linked to his work.
Karak-based fellow reporter Haleem Bukhari told Reporters Without Borders he agreed. "The deceased had filed a story on the sale of drugs and drug-sellers and that appears to have been the reason for his targeted killing."
One of Khattak's sons blamed the murder on two brothers allegedly involved in drug dealing: Aminullah and Hasab Niaz. As a result of Khattak's reporting, they are being investigated by the police and are said to be on the run.
Local journalists demonstrated in Karak to protest against the murder and demand justice for Khattak, the father of 10 children.
Photo courtesy: Khyber News