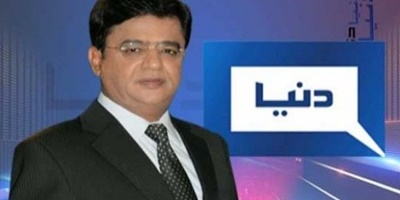 JournalismPakistan.com July 28, 2015
ISLAMABAD: Prompted perhaps by fear of Kamran Khan, once their very own, Geo News management has extended the one-hour program 'Aaj Shahzeb Khanzada Kay Sath' by 30 minutes to match the duration of 'Dunya Kamran Khan Kay Sath', that goes on air on Dunya News at the start of next month.

Kamran Khan (pictured) used to host Geo's flagship current affairs program 'Aaj Kamran Khan Kay Sath' but left the channel to join BOL News in July 2014. His stay there ended in May this year and he then joined Dunya Group.

Shahzeb Khanzada filled the vacant slot left by Khan at Geo.

Promo of Khan's new program on Dunya News is out and this has caused an upheaval at Geo, insiders say. Khan will host his new program Monday through Friday from 9:30pm to 11:00pm.

To counter it, Geo News managers initially experimented by extending the duration of "Aaj Shahzeb Khanzada Kay Sath" to one-and-a-half hours from 9:30pm to 11:00pm. The experiment however, proved futile.

The show was then reverted to its normal broadcast time of one hour after Eid holidays on July 22 and 23. But the management has now once again decided to extend the program's time by 30 minutes to remain at par with Khan's program.

"The first half hour of Shahzeb Khanzada's program will be a talk show while one full hour will see a mix of news and analysis," a source tells JournalismPakistan.com.

He said that 'Aaj Shahzeb Khanzada Kay Sath' is broadcast from Monday to Thursday. However, there are plans to air it on Friday also to compete with Kamran Khan's five-day-a-week show.

This probable one-day extension of Khanzada's show would affect Najam Sethi's "Aapas Ki Baat" that is aired from Friday through Sunday.