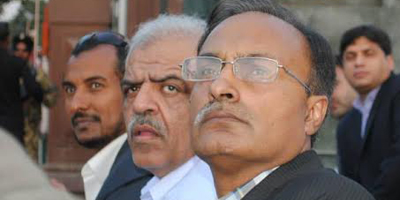 JournalismPakistan.com December 02, 2013
PESHAWAR: Amjad Aziz Malik, Deputy Bureau Chief and Senior Assignment Editor at Geo TV in Peshawar has resigned after 11 years with the channel.
Insiders tell JournalismPakistan.com that Malik (pictured, foreground) opted to quit after developing differences with the management. "He was not getting the respect he deserved as a senior journalist," said his colleague who asked not to be named.
Malik joined the channel in 2002 and progressed from a reporter to become the Deputy Bureau Chief and at one stage was also the Acting Bureau Chief.
During his association with Geo he covered countless bomb blasts that rocked the Khyber Pakhtunkhwa capital, at times putting his life in great danger.
Malik is the first Pakistani to be elected to the Executive Committee of the International Sports Journalists Association (AIPS) and has authored eight books.