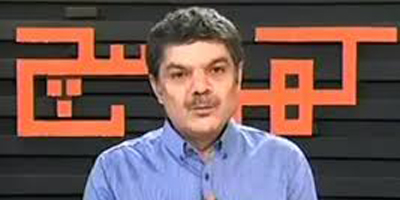 JournalismPakistan.com October 14, 2014
ISLAMABAD: The Supreme Court has decided to indict ARY Television's Chief Executive Salman Iqbal and Mubashir Lucman (pictured) for airing a defamatory program against the judiciary.
Dawn reported Tuesday that the court was hearing a case relating to the program Khara Such, which was hosted by Lucman on May 29. In that program, defamatory allegations were leveled against Justice Jawwad S. Khawaja, his close ties with Geo owner Mir Shakeel-ur-Rehman and the sale of a property in Lahore to the Punjab government by the judge's wife.
Dawn quoted Justice Ejaz Afzal, who is heading a three-judge Supreme Court Bench as saying: "After going through the transcript of a talk show on ARY 'Khara Such' aired on May 29, 2014 and the reply submitted by the respondents we prima facie are of the view that a case for initiating contempt proceedings under Article 204 of the Constitution read with the Contempt of Court Ordinance 5 of 2003 is made out."
The court decided to frame charges against the respondents on October 30.