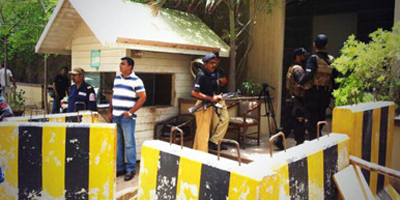 JournalismPakistan.com August 20, 2013
Reporters Without Borders (RSF) has condemned a shooting attack on a building that houses two daily newspapers and a TV station in Karachi on August 16, and a bomb attack on TV reporter Zafar Wazir's home in South Waziristan, in the northwestern Tribal Areas, on August 11.
"We are shocked by these attacks, which were clearly designed to reduce journalists to silence," Reporters Without Borders said. "The investigation that the prime minister has ordered into the Karachi attack must be pursued until the end in order to identify those responsible and bring them to justice.
"We also call for a full investigation into the bombing of Zafar Wazir's home. The authorities need to respond appropriately to the climate of violence to which journalists are exposed throughout the country and, in particular, in Waziristan and the other Tribal Areas. Effective measures are needed to combat the spread of such acts of violence."
The English-language daily The Express Tribune reported that four unidentified men on two motorcycles fired a total of 22 shots at the building that houses The Express Tribune, the Urdu-language Daily Express and the Express News TV station on August 16, injuring a woman and a security guard. According to reports, the gunmen deliberately fired on the building's security guards.
Express News CEO Ijazul Haq told Reporters Without Borders that for the time being there was "no clue" as to the identity of those responsible. Criminal gangs, political parties and other groups often use violence to intimidate journalists and media owners. Prime Minister Nawaz Sharif has ordered the Sindh provincial government to investigate this attack.
The bomb that exploded outside Zafar Wazir's home in Wana, in South Waziristan, on August 11 destroyed the front door and badly damaged three rooms but caused no injuries.
"Fortunately, no member of my family was hurt by the explosion," he told Reporters Without Borders. A reporter for Khyber News, a Pashtun-language TV station and a member of the Tribal Union of Journalists, Wazir said he thought the bombing was linked to his journalistic work because he had no personal enemies.
"Three or four days before the explosion, I did several stories for Khyber News about alleged corruption and the lack of medical care establishments in Wana and the surrounding areas and these stories may have upset some people," he said, without accusing either the government or any Taliban group.
As a result of the bombing, Wazir has decided to relocate to Peshawar for safety reasons.
Wazir previously left South Waziristan along with many other journalists in 2004, when Taliban violence was on the rise in the province, and subsequently based himself in Dera Ismail Khan, a district on the South Waziristan border.
Photo courtesy: Jahanzaib Haque