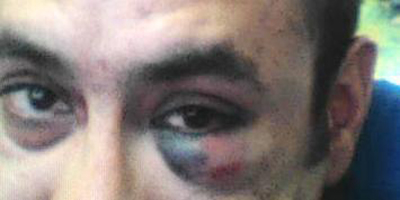 JournalismPakistan.com July 27, 2012
ISLAMABAD: A journalist associated with the Frontier Post in Islamabad was beaten up by police Friday while on a visit to the Daman-i-Koh picnic spot.

Anwar Abbas's friends told JournalismPakistan.com he was having soft drinks with a journalist colleague in the afternoon when the policemen approached them.

The cops, it is said, objected to their having drinks during the fasting hours. This led to a heated argument following which they were taken to a police post where Abbas was thrashed. He ended up with deep bruises on his face.

Later, the two journalists visited the police station to report the matter where they were assured that action would be taken against the errant cops.

Meanwhile, the journalists plan to gather outside the National Press Club Saturday to protest this police highhandedness.