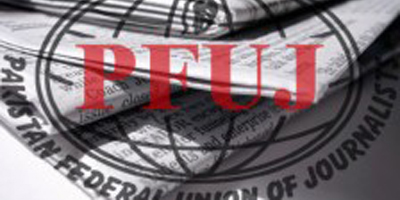 JournalismPakistan.com May 19, 2015
KARACHI: Pakistan Federal Union of Journalists (PFUJ) has warned the government over any move to withdraw notification of Sept 16, 2013 regarding constitution of the Eighth Wage Board or to delay the award.

It also asked the government not to become part of any such move which may cause harm to the Newspaper Employees Conditions of Service Act of 1973.

In a statement, PFUJ President Rana Azeem and Secretary General Mohammad Amin Yousuf said the PFUJ would resist every move to withdraw the notification at the behest of vested interests.

The statement said the people with vested interests are creating hurdles in the functioning of the Wage Board, and that a group of self-styled leaders had become active and was trying to delay the proceedings of the award.

Demanding immediate functioning of the proceedings of the Wage Board, Azeem and Yousuf said the newspaper owners were not cooperating with the honorable judge of the Eighth Wage Board as a result journalists and non-editorial staff had been suffering.

The 8th Wage Board was constituted on Sept 16, 2013, by the government, and was notified in the Gazette of Pakistan to determine the salaries of newspaper employees to meet the price-hike, but the newspaper owners' body, All-Pakistan Newspapers Society, adopted an irresponsible attitude.

The APNS did not nominate its representatives to the Wage Board, and when the government itself nominated representatives, they disowned them, although the notified people were their immediate office-bearers.

The Sept 16, 2013, notification of the Government of Pakistan in the Gazette of Pakistan had notified names of representatives of newspaper owners and representatives of APNS. They included Sarmad Ali (the then President), Dr Jabbar Khattak, Imtinan Shahid, Masood Hamid, Syed M Munir and Wasim Ahmed. The names from the employees' side included: Pervez Shaukat (PFUJ), Amin Yousuf (PFUJ), Nasir Naqvi (Lahore), Khalid Mehmood (Rawalpindi), Saleem Shahid (Quetta) and Abdullah Jan (Khyber Pakhtunkhwa).

The PFUJ leaders said that journalists in few newspapers, including Dawn, have not been given arrears of 7th Wage Award and they have just been informed that their arrears have been adjusted.