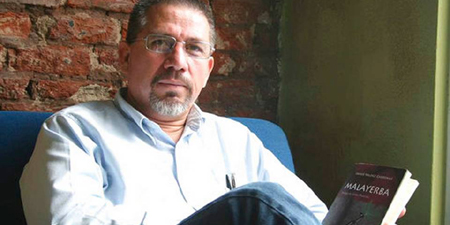 JournalismPakistan.com May 15, 2017


MEXICO CITY - Javier Valdez, an award-winning reporter who specialized in covering drug trafficking and organized crime, was slain Monday in the northern state of Sinaloa, the latest in a wave of journalist killings in Mexico.
Valdez is at least the sixth journalist to be murdered in Mexico since early March, an unusually high number even for one of the world's deadliest countries for media professionals.
Valdez was shot to death in the early afternoon in the state capital of Culiacan, near the offices of the publication he co-founded, Riodoce.
State Prosecutor Juan Jose Rios visited the scene and said authorities were investigating all possible motives, including that the killing could have been due to Valdez's work, though he gave no details.
Riodoce reported that Valdez was driving about a block from its offices when he was intercepted by gunmen. Valdez was also a correspondent for the national newspaper La Jornada, which reported that he was pulled from his car and shot multiple times.
Images in Mexican media showed a body lying in a street covered by a blue blanket and surrounded by 12 yellow markers of the kind typically used to flag evidence such as bullet casings.
President Enrique Pena Nieto condemned what he called an "outrageous crime."
"I reiterate our commitment to freedom of expression and the press, fundamental for our democracy," he tweeted.
The federal Attorney General's Office said it was investigating.
Valdez was a nationally and internationally recognized journalist who authored several books on the drug trade, including "Narcoperiodismo" and "Los Morros del Narco." The former is a look at the relationship between journalism and organized crime, and the latter chronicles the lives of young people swept up in Mexico's criminal underworld. - AP/Image: Riodoce