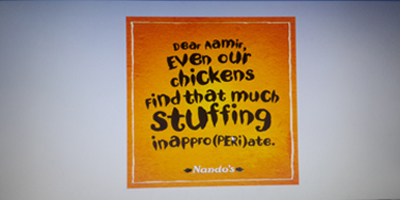 JournalismPakistan.com July 18, 2014
ISLAMABAD: Nando's Pakistan Pvt Ltd never missing an opportunity to throw in a witty piece of irreverence (see picture) just capitalized on the recent stunt the much acclaimed and equally notorious Aamir Liaquat pulled on his recent Ramadan transmission.
The much talked about host usually pulls all kinds of spectacles to get more attention and ratings on his show. While last Ramadan was about wrapping snakes around unassuming new singers and giving away babies, one of this Ramadan's antics is stuffing guest's faces with mangoes.
Nando's commented on this awkward and inappropriate act, being widely criticized by outing their own spin on the situation. In the past Nando's is known to throw in a tongue in cheek quip here and there on a number of topics like the Lawn fever, cricketers' faux pas and sometimes boldly enough even politics. The topical nature of Nando's adverts is their global strategy of breaking clutter and talking about local burning issues that are close to people's hearts.
Courtesy www.mediapoondi.com