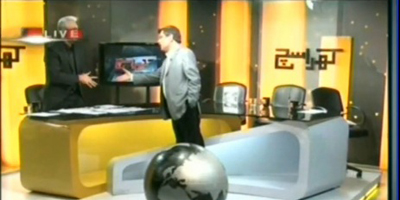 JournalismPakistan.com June 13, 2014
ISLAMABAD: Popular anchor Mubashir Lucman has announced quitting his television career just days after a court barred him from hosting any program.
Lucman appeared as a guest on ARY Television's Khara Such, a program he used to host.
Even as a guest, he continued his scathing criticism of Jang Group owner Mir Shakil-ur-Rehman, calling him a 'traitor' and 'defaulter'. He said he was ready to prove this in a court of law.
He expressed dismay that a 'traitor' was punished for just 15 days, referring to the ban on Geo TV that belongs to Jang Group, while an indefinite ban was slapped on him, one who identified the 'traitor'.
Lucman then walked out of the show telling the program host Arif Hameed Bhatti he was joining hands with politician and Islamic scholar Muhammad Tahirul Qadri.