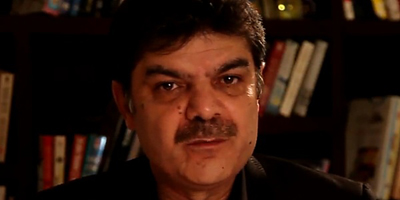 JournalismPakistan.com September 03, 2014
ISLAMABAD: A legal notice has been served on ARY Television's President and Chief Executive Salman Iqbal, program host Mubashir Luqman (pictured) and Islamabad Bureau Chief Sabir Shakir by 10 prominent journalists/analysts/columnists.

The defamation notice sent by Advocate Babar Sattar seeks Rs 100million in damages from each of the three ARY men for each of the 10 individuals - Talat Hussain, Hamid Mir, Ansar Abbasi, Saleem Safi, Ejaz Haider, Naseem Zehra, Meher Aabbasi, Rana Jawad, Absar Alam and Javed Chaudhry.

The notice relates to allegations in the program Khara Such on ARY Television hosted by Mubashir on 21-08-2014 that claimed the Prime Minister House had disbursed funds to various journalists two days before the date of the program.

The notice said "it was further alleged and insinuated that various journalists and anchorpersons had also gone to meet with the Prime Minister on the date of the program."

"Subsequently on 22-08-2014, Mr Luqman and Mr Shakir appeared on Khara Such where they broke the news that a list of journalists and anchorpersons had emerged who had received money from the Nawaz Sharif Government and their job objective was "diffuse the political situation."

It is also stated in the notice that two posts were shared on the Facebook page of Khara Such on 28-08-2014 and 29-08-2014 linking the earlier breaking news with a list of 20 journalists including our clients who were allegedly given the task by the Nawaz Sharif Government of 'creating a favorable media response toward the current political situation" in lieu of payment of illegal funds that they dishonestly accepted (collectively, Defamatory Statements)."

"By reason of the aforementioned, you are hereby given notice under Section 8 of the Defamation Ordinance 2002, of the intention of our clients to bring an action for damages on account of defamation, unless each of you pay a sum of Rs 100 million to each of our clients as damages, withdraw the defamatory statements publicly and communicate to our clients an unqualified apology within three days of the receipt of this notice," the notice says.