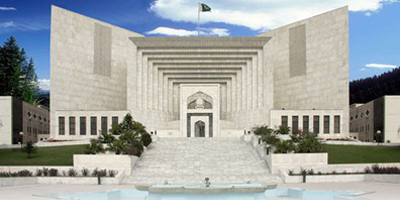 JournalismPakistan.com May 22, 2013
ISLAMABAD: The Supreme Court has expressed its anger over some journalists for criticizing the judiciary in a TV program, according to a report in the Daily Times.

Hearing the plea of Information Ministry's counsel who asked for initiation of contempt proceedings against TV anchor Hamid Mir, a three-member bench headed by Justice Jawwad S Khawaja on Tuesday watched the recording of the TV program in which Mir raised questions regarding the role of applicant Raja Amir Abbas as well as judiciary in the case related to the accountability of media.


The newspaper reported the bench also objected to anchor Muhammad Malick's criticism of judiciary in the same program over making public the list of journalists who received money from Information Ministry's secret fund.
Attorney General of Pakistan Irfan Qadir urged the court to initiate contempt proceedings against these journalists for using "scandalous language" against the court. He contended that if the court could initiate contempt proceedings against two former prime ministers on the charge of ridiculing judiciary then law should be applied equally in this matter as well.


Daily Times said Justice Jawwad expressed anger over Muhammad Malick's statement and said the court would summon him for passing certain remarks related to the judiciary in the program.
Agreeing to the AGP's contention, he told him if he was so interested then he should move an application for contempt proceedings against the journalists. Meanwhile, Justice Khilji Arif Hussain observed the court did not expect Muhammad Malick to use such words against the judiciary, as he was a gentleman.


Referring to Malick's statement, Justice Jawwad remarked that judges were ready if someone wanted to open Pandora's Box.
Later, petitioner Absar Alam requested the bench to ignore journalists' remarks in the TV program.
The hearing of the case was adjourned for one week.