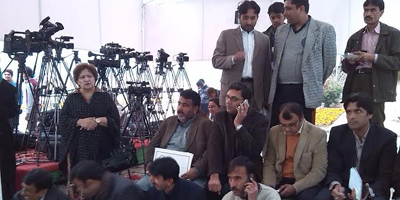 JournalismPakistan.com December 22, 2014
ISLAMABAD: Parliamentary reporters briefly boycotted proceedings of Senate Monday to protest the attack on NewsOne Television reporter Zeeshan Shamsi.

Zeeshan Shamsi and his family were attacked by unidentified assailants Sunday while heading to Islamabad from Sialkot. National Press Club President Shaharyar Khan led the protest outside Parliament House. The reporters chanted vociferous slogans against the government and police for failing to protect journalists.

Shaharyar told JournalismPakistan.com that Pakistan has emerged as one of the deadliest countries for journalists but the government had failed to devise any cogent strategy to protect the community.

"Journalists are being targeted by Taliban, religious and political parties for doing their job. It's unfortunate that we are being targeted by security agencies too," he said.

He said the parliamentary reporters have been staging token walkouts to protest against the maltreatment but to no avail. "Enough is enough. We won't end boycott of the proceedings until an FIR is registered in Zeeshan Shamsi incident," he said.

Mushahidullah Khan, PMLN Senator, approached the protesting journalists and promised action against the culprits. "An FIR 675/14 has been registered into the incident and I urge you (journalists) to end the boycott of the proceedings," he said.

The Senate is going to debate on Peshawar massacre and condemn Taliban for it, he beseeched, therefore journalists should cover the proceedings.

Shaharyar Khan announced to end the boycott following registration of FIR and hoped the government would devise a permanent strategy to protect journalists.