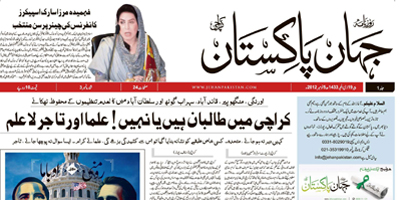 JournalismPakistan.com November 05, 2012
KARACHI: Jehan Pakistan, an Urdu-language daily hit the newsstands in Karachi Monday, becoming the second newspaper born this year.
A publication of the University of Lahore, the paper's top story loosely translated is headlined: "Do Taliban exist in Karachi? Ulema and traders clueless". The story is written by Sarfraz Hussain Bajwa.
The paper has 24 pages and is priced Rs 10. The management plans to start publishing from Lahore soon followed by Islamabad.
Jehan Publications also intend to bring out an English newspaper besides starting a television channel.
In September, Roznama Dunya, another Urdu-language daily began publishing from Lahore. Its managers, the Dunya Media Group, are now planning for an Islamabad launch.