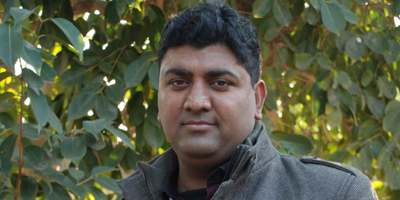 JournalismPakistan.com March 16, 2013
LAHORE: After struggling together for allocation of plots to 295 members for almost a week, the executive body of the Lahore Press Club (LPC) and the protesting members have developed serious differences.
There are reports that some members wanted to set up a strike camp on the premises of LPC but were not allowed to do so. They were reportedly warned of dire consequences if they resisted and even manhandled.
Asif Butt (picture), a member of LPC governing body and chief organizer of the hunger strike camp for the cause of F Block, told JournalismPakistan.com on phone from Lahore that he had been issued a show cause notice by LPC President Arshad Ansari. The club president has warned of cancelling his membership if he failed to justify his conduct.
"I don't feel necessary to respond to this letter issued by an unconstitutional body. Their term expired on December 31, 2012 but they are clinging to their seats."
Butt said he would continue his protest against failure of the LPC executive body to get development work done in B Block and make acquisition of land for F Block a reality. "They also invited applications for new memberships and pocketed Rs4 lac without realizing they had lost legal authority to award new memberships after completion of their term," Butt said.
"The applicants for new memberships are our respected fellow journalists. It hurts when we see they are being befooled by the body."
A supportive member of the sitting body however refutes these charges and tells JournalismPakistan.com a notification for acquisition of land for F Block has been issued recently. As per the notification dated March 14, the relevant authorities have been directed to acquire land measuring 581 kanals and 16 marlas at Kot Dhuni Chand and Baghrian Syedan under The Land Acquisition Act 1894.
However, Butt terms this claim rubbish saying the notification is nothing more than an eyewash and talks only about the assessment of land value in the area. "Nothing less than issuance of notification under Section 17 (4) of the said act and transfer of funds from the account of the district government to that of Punjab Journalists' Housing Foundation will satisfy us."