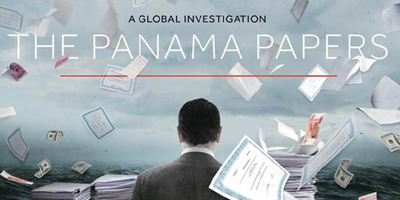 JournalismPakistan.com April 27, 2016


ISLAMABAD - The International Consortium of Investigative Journalists (ICIJ) will release on May 9 a searchable database with information on more than 200,000 offshore entities that are part of the Panama Papers investigation.

The database will likely be the largest ever release of secret offshore companies and the people behind them. The data comes from the Panamanian law firm Mossack Fonseca, one of the top players in the offshore world, and includes information about companies, trusts, foundations and funds incorporated in 21 tax havens, from Hong Kong to Nevada in the United States. It links to people in more than 200 countries and territories.
When the data is released, users will be able to search through the data and visualize the networks around thousands of offshore entities, including, when possible, Mossack Fonseca's internal records of the company's true owners. The interactive database will also include information about more than 100,000 additional companies that were part of the 2013 ICIJ Offshore Leaks investigation.

While the database opens up a world that has never been revealed on such a massive scale, the application will not be a "data dump" of the original documents – it will be a careful release of basic corporate information .

ICIJ won't release personal data en masse; the database will not include records of bank accounts and financial transactions, emails and other correspondence, passports and telephone numbers. The selected and limited information will be published in public interest.

Meanwhile ICIJ, the German newspaper Süddeutsche Zeitung which received the leak, and other global media partners, including several new outlets in countries where ICIJ has not been able to report, will continue to investigate and publish stories in the weeks and months to come.

The Panama Papers investigation revealed the secret offshore dealings of world leaders and other politicians as well as criminals and celebrities. It exposed the role of big banks in facilitating secrecy and tax evasion and avoidance. And it showed how companies and individuals blacklisted in the U.S. and elsewhere for their links to terrorism, drug trafficking and other crimes were able to do business through offshore jurisdictions.

Since its release, the Panama Papers investigation has led to high profile resignations, including the prime minister of Iceland; triggered official inquiries in multiple countries; and put pressure on world leaders and other politicians, such as Britain's Prime Minister David Cameron, to explain their connections to offshore companies. It sparked a new sense of urgency among lawmakers and regulators to close loopholes and make information about the owners of shell companies public.

In the U.S., where several states act as tax havens for people from all over the world, President Barack Obama commented on the Panama Papers revelations and said global tax avoidance facilitated by secrecy jurisdictions is "a huge problem." The president added that "a lot of it is legal, but that's exactly the problem. It's not that they're breaking the laws, it's that the laws are so poorly designed."