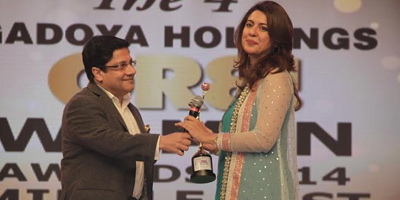 JournalismPakistan.com February 18, 2014
ISLAMABAD: Television host and journalist Sidra Iqbal has won the 4th Annual GR8 Women Award 2014 for her achievements in journalism.
She is the first Pakistani to get this award which was handed over to her at a ceremony in Dubai on February 15. Sixteen other women from the Middle East region were also honored.
Ashish Bagga, Chief Executive Officer of the India Today media group, gave away the awards.
Sidra was quoted as saying: "I am most humbled to be recognized at this prestigious forum that celebrates dynamic women achievers from across the region. It's a delightful feeling to be the first Pakistani GR8 Women Award recipient.
"The GR8 Women Award in Journalism has rejuvenated my will and my spirits. May this forum of substance grow and flourish."