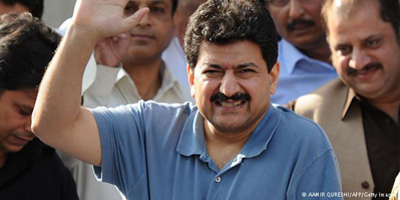 JournalismPakistan.com May 28, 2014
ISLAMABAD: In a hard-hitting interview Hamid Mir has tried to distance himself from Geo Television Network's apology for its April 19 accusations against the ISI, insisting he still blames the "state within state" for the murderous attack on him.
"Geo is apologizing for the coverage of the attack…I have nothing to do with it because I was injured and in hospital. I stand by my stance that I have told the (Geo) management about ISI forming a state within state and I can be attacked," Mir told German broadcaster Deutsche Welle (DW).
He added that Geo TV was under immense pressure to tender apology as banned organizations such as Lashkar-e-Tayyaba were on the roads protesting against the channel. "I do not know if Geo's apology has been accepted or not. I only know that I have been shot six times and am still awaiting justice."
Mir maintained that ISI was not happy over his program on the missing persons, coverage of Pervez Musharraf and other issues of Balochistan. "I have told my institution in writing that these people were not happy with me…ISI chief was not happy with me…and if I am attacked, these people will be responsible."
He added that nobody from the ISI or the government has visited him to deny that the spy agency is involved in the attack on him. The popular Geo anchor also claimed that a senior police officer told him that police have reached the people who attacked him but they cannot arrest them. "He (police officer) didn't tell the reason." Quoting his journalists friends, he said Karachi police tried to implicate some people in the case but that effort was "exposed". He maintained that a "secret hand" wants to protect and save the attackers.
Recalling the attack, he said former president Pervez Musharraf was also reaching Karachi on April 19. "There was high alert in the city. But the attackers followed me for 7 to 8 kms. I received the last bullet near Aga Khan Hospital." He pointed out that the Judicial Commission formed to probe the attack was asking the same questions from the police but there was no satisfactory answer.
Saying that he still faces threats, Mir said he would not budge from his stance, terming the people of "state within state" as "cowards who stab you from behind. But I do not care for their threats. Five weeks on after the attack I am still in Pakistan. If they continue to play games, I will also remain steadfast."