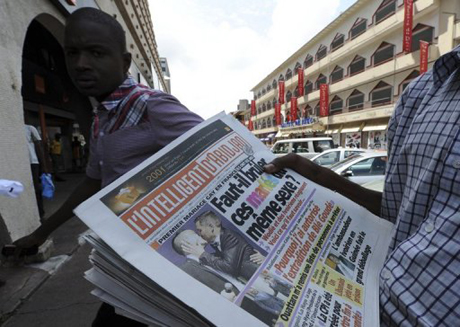 JournalismPakistan.com June 11, 2013
ABIDJAN: More than half of the Ivory Coast's press industry have been suspended, the regulatory authority announced as it promised to "clean up" the sector.

Of the 60 press businesses evaluated, 34 were suspended for violating their obligations, notably concerning press cards and journalists' remuneration, the National Press Council (CNP) said in a statement Monday.

Among those whose operations were stopped was the group which publishes the Intelligent d'Abidjan,a daily which often adopts positions supportive of the regime of President Alassane Ouattara. Le Nouveau Courrier, seen as backing former head of state Laurent Gbagbo was also suspended.

A further 26 press enterprises were given a fortnight to "regularise their situation," the CNP said.
The press council explained that the sanctions, which may be lifted when the papers involved are deemed to have adopted the required practices, were necessary to clean up the national press and to impose respect for social and other rules.

The financially fragile Ivorian press is known for strong political stances and their often virulent tone which have resounded during the years of politico-military crisis which have swept the country since the end of the 1990s.

Ivory Coast is still recovering from the years of unrest which came to a head when Gbagbo refused to admit defeat in the 2010 presidential vote.

Around 3,000 people died in the ensuing conflict and Gbagbo is now facing trial for crimes against humanity at the International Criminal Court in The Hague. - AFP