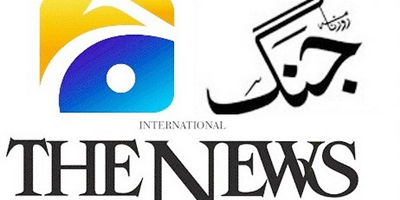 JournalismPakistan.com September 05, 2014
ISLAMABAD: The Geo/Jang Group has made a fresh attempt to create fissures within the military, The Express Tribune reported Friday.

Who is running a vilification drive against the military, asks the paper in a front page display that also carries a catch-line 'Conspiracy afoot'. "Most Pakistanis see the attacks mounted by Jang/Geo group in the shape of news and views as 'seditious'. And questions have been asked about who prepared the slanderous material against the army and whether it was instigated by a national or foreign actor," the paper said.

On Thursday, The News published by the Jang Group, ran a front page story announcing Geo Television faced closure and accused the ISI for this, claiming it had evidence some intelligence officials had a hand in closing down Geo.

The once popular network says it has so far suffered losses of Rs5 billion in over four months as all their channels are 80 percent off air while the remaining 20 percent have been relegated to the last numbers.
The government overtly continues to support Geo in the aftermath of the murderous attack on presenter Hamid Mir in April, that has upset the military.

Geo wildly accused the ISI chief Lt. Gen Zaheerul Islam as being behind the attack before retracting and apologizing when pressure from all quarters mounted.

"Nationalists have also expressed reservations over the government's 'overt support' for Jang/Geo," the Tribune reported. The paper mentioned how the Interior Minister, while making a speech in the Parliament, was prodded by Prime Minister Nawaz Sharif to mention Geo. The minister, however, did not do so.

The paper wrote that the Geo/Jang Group has tried to given an impression that ISI is a separate entity from the army.

"During the past few days Jang and Geo Group has mounted a fresh vilification campaign against the army in which sections of speeches made in parliament were taken out of context, particularly the interview of Javed Hashmi and hammered into analysis."

The paper mentions a Geo anchor it did not name, as saying on air that ISI was the father if Imran Khan and Tahirul Qadri claim to be brothers.