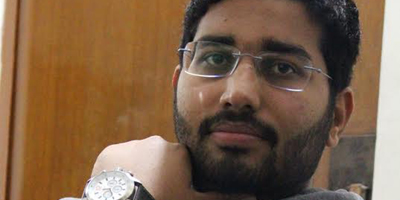 JournalismPakistan.com January 01, 2016


LAHORE - Farrukh Shahbaz Warraich (pictured), columnist of Urdu daily Nai Baat, has been elected president of Pakistan Federal Union of Columnists (PFUC) for 2016 in elections held recently. His panel got 57 votes of member columnists from all over the country while his opponent Khalid Mahmood from Islamabad got 45 votes.

The members of the union who were not present in Lahore on the polling day had the option to cast their votes through their email accounts or cell phone numbers registered with the election commission in advance. They were supposed to send their opinion through email and text messages between 11am and 1pm on the polling day.

The other elected office-bearers include Hafiz Zuhaib Tayyab (Daily Nai Baat) General Secretary, Farid Razzaq (Daily Sama) Secretary, Noorul Huda (Jehan Pakistan) Information Secretary, Sajid Khan (Daily Mashriq) Secretary Coordination, Hafiz Zahid (Daily Jinnah), Finance Secretary and Sudaif Gilani (Daily Sama) Joint Secretary.

PFUC which has a membership strength of 116 at the moment was established on January 1, 2013 with an aim to provide a platform to columnists and bloggers where they can interact with each other and enhance their knowledge and professional skills. Using this platform, they can discuss important topics in a professional way and adopt a research-based approach while writing for their respective organizations.

PFUC organizes training workshops for the professional growth of member columnists and strives to establish linkages between budding columnists and media houses that can publish their work, says the newly elected president. He adds welfare of the members is on top of the agenda of PFUC which is working on forming partnerships with different organizations to facilitate them in education, research, exposure trips, health service delivery etc.

The PFUC president clarifies that all the activities of the union are self-financed and the members have to pay an annual fee of Rs1,000. The application form and details on eligibility criteria can be downloaded from the website www.pfuc.org.

Professor Dr Ajmal Niazi (Columnist, Daily Nawa e Waqt), Hafiz Shafiqur Rehman (Joint Editor, Daily Nai Baat), Muhamamd Ather Khurram (CEO, Media Network International), Tayyba Zia Cheema (Columnist, Daily Nawa e Waqt), Orya Maqbool Jan (Columnist, Daily Dunya ), Altaf Hussain Qureshi (Columnist, Daily Jang) and Sajjad Mir (Columnist, Daily Nai Baat) are on the advisory board of PFUC.