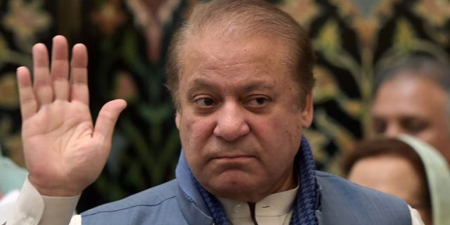 JournalismPakistan.com August 10, 2018 By Econobserver



Economic crises are NOT earthquakes which strike without warning; they are culmination of years of excesses and misguided macroeconomic policies. The argument that unravelling of Pakistan's economy is a consequence of Supreme Court's disqualification of Nawaz Sharif on July 28, 2017 is beyond ludicrous.
While some of the effects of unchecked debt infused growth of past several years have started to unfold, a lot remains below the surface especially in the energy sector which shall be raising its ugly head in the coming months. The macroeconomic legacy of PML-N government is comprises the following:
• Massive external current account deficit. The external current account deficit reached $ 18 billion in FY2018 (5.8% of GDP), which is the highest ever in the country's history in absolute terms. Even in FY2017, when NS himself was the PM, the current account deficit was $12.6 billion, which was 5 times the size of current account deficit of $2.5 billion in FY2013 – the last year of PPP government in office.
Record trade deficit due to snowballing imports and relatively weak exports has been the primary reason behind surging external current account deficit. SBP's FX reserves of currently around $ 9.5 billion are equivalent to less than 2 months of country's imports, which is a dangerously low level.
• Huge budget deficit. Consolidated budget deficit for FY2018 is estimated at Rs. 2,300 billion (6.8%) of GDP. Even in FY2017, the budget deficit was a hefty Rs. 1,860 billion (5.8% of GDP).
• Large external debt. Total external debt and liabilities have increased to a massive $ 92 billion by March 2018 and the number would be much higher for June 2018. Total external debt & liabilities were $61 billion in June 2013.
• Large public debt burden. Total public debt (external plus domestic) has crossed 72% of GDP in June 2018, which is far higher than the mandatory limit of 60% set under the fiscal responsibility and debt limitation act.
• Energy sector iceberg. PML-N government's policy adding massive power generation capacity on long-term (25-30 years) take-or-pay contracts which has pushed the country into a capacity trap. New power generation projects shall add around $ 4.0 billion annually to total capacity payments pool of CPPA (Central Power Purchasing Agency). The burden of additional capacity payments shall be passed on to consumers in shape of substantially higher electricity tariff.
Similarly, natural gas prices shall also see huge increases to meet higher cost of imported LNG and to provide return on investment due to large expansion of pipeline transmission network by Sui gas companies for upcountry transportation of LNG.
PML-N government was one of luckiest governments of recent times to enjoy massive tailwind resulting from a confluence of following factors:
• Collapse of international oil prices: Brent oil averaged $68 per barrel during 5 years of PML-N government i.e. from FY2014 to FY2018. This was more than $40 per barrel lower than the average of $110 per barrel in FY2012-13, the last 2 years of PPP government. Cumulative savings in oil import bill alone amounted to more than $25 billion in 5 years of PML-N government.
• Increase in home remittances. Workers' remittances averaged $18.9 billion a year during FY2014 to FY2018 (PML-N government's tenure), up by more than $5.0 a year more than where they were in FY2012 and FY2013, the last 2 years of PPP government. In addition to natural growth, a significant part of increase in remittances was due to global tightening of money laundering laws which encouraged reverse flight of capital disguised as remittances. This is acknowledged by SBP in its latest quarterly report on the state of Pakistan economy. Cumulative benefit of higher remittances as another $25 billion during the last 5 years.
• CPEC as part of Belt and Road Initiative (BRI). Xi Jinping assumed office in 2012 and unveiled by Xi Jinping in late 2013. CPEC is a subset of BRI and not any original idea conceived by PML-N. Regardless of the political party in the government, Pakistan would have been included in the BRI.
• Improved domestic law and order situation: Sustained military operation against terrorism resulted in marked improvement in domestic law and order situation creating a more conducive environment for investment.
The above factors created an ideal opportunity for the government to put the economy on the path of higher, sustainable and inclusive growth by strengthening institutions, restructuring and privatisation of PSEs, investment in critical areas such as education, healthcare, water resources, agriculture, environment and infrastructure, providing long-term policies for export growth and import substitution. Instead, the PML-N government squandered away the golden opportunity.
The dangerous of mix of arrogance, incompetence and malfeasance would perhaps be a better description of what PML-N proclaimed as "Good Governance". The key element of patently flawed policies pursued by PML-N government included:
• Overvalued Exchange Rate: The Real Effective Exchange Rate (REER) series, published by SBP, is the most credible indicator of exchange rate valuation. REER value of 100 reflects fair valuation, while values higher than 100 represents overvaluation and less than 100 undervaluation. REER was at 104 in June 2013 when PML-N government came into office. However, it climbed up to 127 by December 2016, which was indicative a massive exchange rate overvaluation of 27%.
The analyst and economists who raised concerns about exchange rate overvaluation were ridiculed and criticised by the then finance minister Ishaq Dar. The overvalued exchange rate had twin negative effects. Firstly, it stimulated demand for imported goods. Secondly, it hurt exports by adversely affecting competitiveness, which along with absence of focus on export sectors resulted in underinvestment in export oriented industries. It is no surprise that the country's exports fell from $25 billion in FY2014 to $20 billion in FY2017. Imports on the other hand jumped from $45 billion in FY2014 to $61 billion in FY2018.
• Fixation with Visibility over Value. PML-N government has been fixated with high visibility infrastructure projects even if they had low or negative value. Projects like metro bus in Islamabad or orange train in Lahore are a few cases in point.
• Unsustainable Energy Sector Expansion. The massive capacity expansion in the power sector have been undertaken without professional due diligence of the country's demand/supply projections and impact on affordability and sustainability. Annual capacity payment of one 660 MW coal base power plant is $190 million while that of one 1200 RLNG based power plant is $170 million. Already, 4 x 660 MW coal based and 3 x 1200 MW RLNG based power plants have been completed. These projects shall entail aggregate annual capacity payments of $1.3 billion. A large number of power projects are under construction and their capacity payment burden shall start to accumulate in coming months/years.
• Absence of focus on agriculture and exports. These two sectors have been weakest performers in the last several years. As mentioned, exports have fallen over the last few years. Misplaced agriculture policies have added to the external account burden. Despite being an agriculture economy, Pakistan's annual import of food/agriculture products is around USD 7.5 billion including over USD 2.0 billion of Palm Oil and more than USD 1.0 billion of cotton. Wrong agriculture policies have resulted in surplus production of sugarcane (which is a highly water intensive crop) and wheat. The commodities have to be exported at massive subsidies. According to latest SBP quarterly report, Pakistan's domestic sugar production is nearly twice the domestic demand.
• Lack of Reforms in Public Sector. There has been a sustained decay of institution capacity of public sector institutions include regulatory institutions and public sector enterprises. Contrary to its traditional policies of privatisation, the PML-N government actually expanded the role of public sector by setting up a large number of new public sector enterprises. The stated claims of containing circular debt have been disingenuous. The number of months of overdue receivables of power sector increased to 12 by March 2018 from 2 in June 2013.
The financial position of Sui gas companies is very weak. Sui North had Gas Differential Margin payable of PKR 26 billion June 2013, which has turned into a net deficit of PKR 109 billion as of March 2018. Gas tariffs shall have to be increased substantially to recover these amounts from consumers.