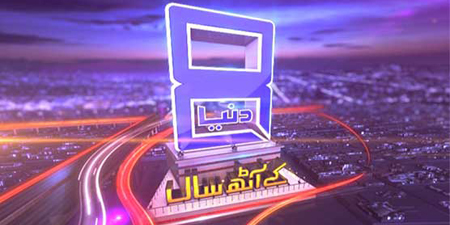 JournalismPakistan.com December 02, 2016


ISLAMABAD - Dunya News, among the popular news channels in Pakistan, has turned 8 after an eventful journey.
Cake-cutting ceremonies were held in Dunya offices across the country as the staff reflected on the years gone by.
The channel has come a long way since its launch in 2008 with its reporting and programming that includes talk shows, comedy, and more.
The Dunya website claimed the channel has become the "voice of the people" because of its scoops and up to date follow-ups on a variety of societal issues.
The journey may have been remarkable for Dunya but it is also tainted by that leak of a video conversation in 2012 between program hosts Mubashar Lucman, Meher Bukhari and property magnate Malik Riaz – the guest on their talk show - during a commercial break. The conversation showed the interview was pre-planned.
The leaked video that first went up on YouTube and later on Facebook and other social media embarrassed the management of Dunya back then.
Image courtesy: dunyanews.tv