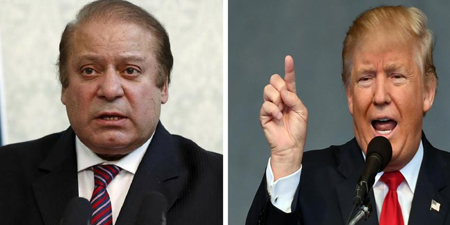 JournalismPakistan.com December 04, 2016 Z.B. Saigol



The read-out issued by Pakistan's Press Information Department detailing a purported telephonic conversation between Prime Minister Nawaz Sharif and the US President-elect Donald Trump not only continues to boggle the mind but also stir up a host of questions.
The startling account, which followed Sharif's call to Trump to felicitate him on his win in the recent US elections, apparently focuses mostly on Trump's praise of the prime minister.
"You have a very good reputation. You are a terrific guy. You are doing amazing work which is visible in every way. I am looking forward to see you soon. As I am talking to you Prime Minister, I feel I am talking to a person I have known for long.
"Your country is amazing with tremendous opportunities. Pakistanis are one of the most intelligent people. I am ready and willing to play any role that you want me to play to address and find solutions to the outstanding problems. It will be an honor and I will personally do it. Feel free to call me any time even before 20th January that is before I assume my office."
Mr. Trump goes on to say Pakistani people are amazing and all Pakistanis he has known are exceptional people.
Even more amazingly, the cat apparently got Sharif's tongue. He had not a word to say. Even more surprisingly, despite a barrage of criticism, the prime minister's office, the Pakistan Press Information Department, the minister of information etc. have still not elaborated on Sharif's response to all the purported praise from Trump.
Surely, he must have had something to say.
The bigger question is how was this read-out permitted to get as far as it did?
Were there no checks and balances?
If it was a press release, as has since been claimed, it certainly did not read like one. It was more like a projection in self-aggrandizement. It was meant to get political mileage for Sharif with little thought to the fact that it could backfire.
And it has.
It reeks of vulgarity in its presentation and content.
This is no press release. If it is then both the Press Information Department and the prime minister's media people need to do a refresher course... or better still, be sacked for showing such immaturity.
Press releases are a formatted genre. A lot of thought goes into the words. Every sentence is linked to the next. Every paragraph is a compact account. There is an overall theme, a beginning and most certainly an impactful conclusion. The message should be unified and strong.
This read-out had none of these characteristics. It was more like an incoherent ramble.
All of the above calls into question the capability of the individuals that not only prepared the read-out, but those that allowed it to go out in public.
There is accountability to be had for such irresponsibility.
The world media is shocked at this breach in protocol and have openly criticized it. Indeed, Trump's team have now gone on to say that the entire reported conversation, which might or might not have taken place, is certainly not reflective of what Trump said.
Also not appreciated is the deliberate attempt by the authors to insert inflections of the Trump's speech pattern and vocabulary.
And while the prime minister's media people imagined that they had done a wonderful job, all they have managed to achieve is reflect a disturbing sense of insecurity that goes beyond the prime minister's office.
The prime minister needs to get competent people to manage his media needs. Babus will no longer do.
This problem needs fixing.