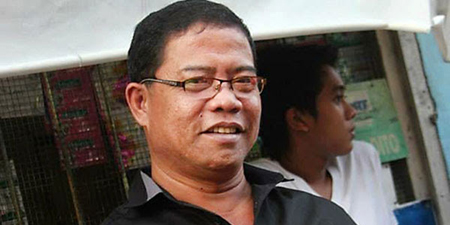 JournalismPakistan.com March 15, 2017


The International Federation of Journalists (IFJ) and its affiliate the National Union of Journalists of the Philippines (NUJP) have condemned the brutal murder of a tabloid columnist in Masbate, in the central Philippines on March 13, 2017. The IFJ and NUJP are demanding an immediate investigation into the murder.
On Monday, at 8.45 am, Joaquin Brinoes, a columnist for the tabloid Remate was killed when he was shot four times in the back by assailants on a motorbike. Brinoes, who was popularly known as 'Dos por Dos' after the radio show he used to host, was a hard-hitting journalist, having also published the local Masbate Tribune.
In 2000, Brinoes was sentenced to 12 years in jail after being found guilty of six libel charges. He served five years of the sentence, after which he was released on parole in 2005. Following his release, he was harassed and intimidated by the local authorities, including in 2009 when the Masbate provincial vice governor brought a lawsuit against him. The vice governor filed libel allegations against the then editor of the Masbate Tribune.
Joaquin Brinoes was the fourth Masbate journalist murdered since 2003 and the second under the Duterte administration.
The IFJ general secretary, Anthony Bellanger, said: "The brutal murder of Joaquin Brinoes is an attempt to silence a well-respected and hard-hitting journalist. Attacks such as this one illustrate the dangerous and challenging environment which the media in the Philippines face daily. The Philippines President, Rodrigo Duterte, needs to ensure the safety and security of the media and guarantee that his presidency will not follow his predecessor with high numbers of journalists killed." - IFJ media release/Image: PhilStar