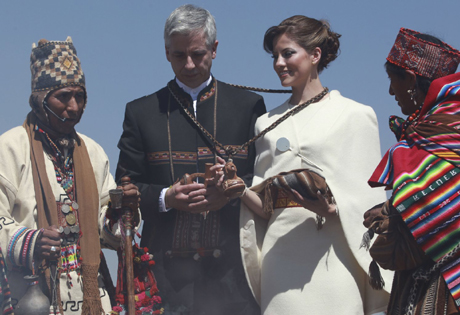 JournalismPakistan.com September 11, 2012
LA PAZ, Bolivia: The nation's vice president and his bride chose for their Saturday nuptials a temple of stone walls that the ancient Aymara people constructed some 3,000 years ago to observe the heavens.

The unusual ceremony uniting 49-year-old Vice President Alvaro Garcia with Claudia Fernandez, a 25-year-old journalist, was held at an ancestral site honoring the Pachamama, or Mother Earth, in a place called Tiwanaku, about 70 kilometers west of the Bolivian capital of La Paz.

Crews from two television channels provided coverage of the ceremony attended by about 200 people, including Bolivian President Evo Morales, Nobel peace laureates Rigoberta Menchu of Guatemala and Adolfo Perez Esquivel of Argentina, government ministers, ambassadors and Aymara dignitaries.

A pair of shamans bathed the couple in incense smoke and asked the Pachamama and other Andean gods to produce good omens for the pair at the archaeological site located near Lake Titicaca.

In a modern touch, the bride wore a full-length white bridal gown by a French designer. They planned to celebrate a more traditional wedding ceremony Sunday at a Roman Catholic Church.

Although Garcia is not of indigenous origin, Bolivia's president is and often refers to his Aymara roots. Although it has become increasingly popular for non-indigenous Bolivians to make offerings to the Pachamama, a full Aymara wedding is quite unusual, even for indigenous couples.