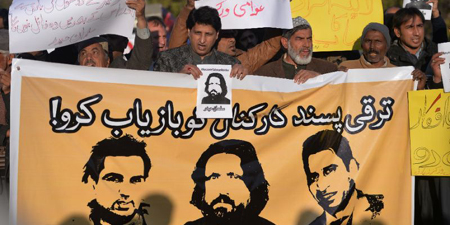 JournalismPakistan.com March 18, 2017


ISLAMABAD - Ahmad Waqas Goraya couldn't see anything through the black hood, but he could hear the screams.
A blogger with a penchant for criticizing the military and taking the government to task, Goraya was kidnapped in January along with four other bloggers.
"I could hear the screams of torture," he said in a telephone interview with The Associated Press, struggling for words as the memories flooded back. "I don't even want to think about what they did."
Even more terrifying was the accusation of blasphemy - punishable by death in Pakistan - hurled at him and his fellow bloggers. They were held in what Goraya called a "black site" on the edge of Lahore that some say is run by Pakistan's powerful intelligence agency.
Analysts say the blasphemy law is a powerful tool to muzzle critics. Some say it is being used by extremists to silence moderates at a time when Pakistanis are increasingly speaking out against violence and extremism, and voicing support for a crackdown on Islamic militants.
In Pakistan, even the suggestion of blasphemy can be tantamount to a death sentence. It has incited extremists to take the law into their own hands and kill alleged perpetrators, often forcing people to flee the country, as Goraya and the other bloggers have.
The government heightened concerns earlier this week when it said it had asked Facebook and Twitter to ferret out Pakistanis posting religiously offensive material, promising to seek their extradition if they are out of the country and prosecute them on blasphemy charges.
In one high-profile case six years ago, Punjab Governor Salman Taseer was gunned down by one of his guards, who accused him of blasphemy because he criticized the law and defended a Christian woman sentenced to death for allegedly insulting Prophet Muhammad (PBUH).
"Right now they have made sure I cannot come back to Pakistan by introducing blasphemy charges," Goraya said.
The lawyer who is arguing the case against the bloggers, Tariq Asad, has openly called for their deaths while praising outlawed Sunni militant groups who want the country's minority Shiites declared non-Muslims.
"They should have been killed," Asad told the AP. "If I had the opportunity I would have killed them."
Asad smiled at the suggestion that invoking the blasphemy law subdues the media and frightens social media activists.
"They should be scared," he said.
The blasphemy charges against the bloggers being heard in Islamabad's High Court were filed by Salman Shahid, who has ties to the Red Mosque, a hotbed of Islamic militancy where hundreds were killed in clashes with security forces in 2007. Asad is Shahid's lawyer.
Zahid Hussain, a defense analyst and author of several books on militancy in the region, said invoking the blasphemy law is a form of "pushback" against the proliferation of news outlets and social media that amplify moderate voices.
Extremists "are trying to reassert themselves with this ideological battle and the easiest thing for them to use is the blasphemy law," he said.
Hamid Mir, a popular news anchor, says both media owners and journalists operate under a cloud of fear. Threats come from a variety of quarters in Pakistan, including the powerful spy agencies, but the most frightening involve the blasphemy law, he said.
Mir was shot six times in a drive-by shooting in Karachi three years ago. The culprits were later said to have been killed, but Mir pointedly accused Pakistan's intelligence agency at the time.
"I am not afraid of bullets or bombs," he said. Even with three of the six bullets still in his body, he has refused to leave Pakistan.
But now he is having second thoughts. Last year, he was charged with blasphemy after writing a column condemning those who would kill in the name of honor following the burning death of a young girl.
"It broke me," he said. "Here I had done nothing wrong and for four months I faced this blasphemy charge. Then I thought I should leave my country."
Asad, the attorney prosecuting the bloggers, also argued the case against Mir.
Senior Pakistani lawyers told Mir there was only one lawyer who could defend him, Rizwan Abbasi, who was defending the seven militants accused in the deadly 2008 assault in Mumbai, which killed 127 people. Abbasi had also defended Hafiz Saeed, the founder of the outlawed Lashkar-e-Taiba group and one of India's most wanted men.
"I thought if the judge saw him by my side he would think 'if he is with him then I won't get into trouble if I free him,'" said Mir, explaining that judges and lawyers fear retaliation from militants if they exonerate someone of blasphemy.
But even Abbasi needed help. He had Mir send his column to five of the country's top clerics to ask if it contained anything blasphemous. They all rejected the charge and it was dropped, but Mir says his approach to journalism has changed.
"I don't talk about human rights any more. . . You become selective in your criticism," he said.
The Committee to Protect Journalists and Amnesty International have spoken out against the abduction of the bloggers and expressed concerns about journalists' fears regarding the blasphemy law.
Prime Minister Nawaz Sharif did nothing to allay those fears this week when he demanded a review of social media to seek out offensive content, and when his interior minister said the government had reached out to Facebook and Twitter.
Facebook said it reviews all government requests "with the goal of protecting the privacy and rights of our users." Twitter declined to comment.
In the past, Pakistan has banned YouTube after the circulation of videos deemed offensive to Islam.
Goraya, the blogger, is still haunted by his three weeks of captivity, where he said cells were packed with men both young and old, many in chains. One of his eardrums is damaged and he no longer has feeling in one hand.
"I was tortured beyond limits, beatings, different equipment used, psychological torture," he said. - AP