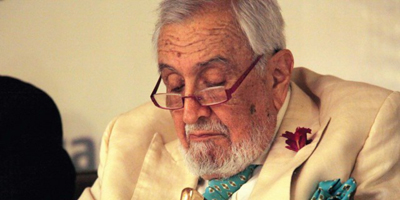 JournalismPakistan.com November 24, 2012
KARACHI: Renowned columnist Ardeshir Cowasjee died Saturday 12 days after being admitted to a Karachi hospital with a chest ailment, reports said. He was 86.
For well over two decades he wrote columns for Dawn, keenly followed and read by readers.
Also known as a social activist, philanthropist, and businessman, Cowasjee belonged to a wealthy Parsi family. His father was a businessman in merchant shipping.
Ardeshir Cowasjee went to the Bai Virbaiji Soparivala Parsi High School (BVS) and graduated from DJ Science College, Karachi.
He has left behind his son Rustom and daughter Ava.
Tributes poured in on Twitter for Cowasjee. Here are some of them:

RIP Ardeshir Cowasjee: Gloriously eccentric, blunt, outspoken, old school. The last representative of a cosmopolitan Karachi we have lost. - Talat Aslam Senior Editor, The News, Karachi.

Cowasjee will stay alive: Though he has expired, Mr Cowasjee will stay alive in our memories and in history. He was persuasive. - Shaheen Sehbai, Group Editor, The News

Ardeshir Cowasjee was gloriously irreverent, profane, brave and iconoclastic. Bloody funny too. Pakistan will miss him, as will I. RIP. - Declan Walsh, New York Times Pakistan Bureau Chief

RIP Ardeshir Cowasjee, columnist extraordinaire, bane of land grabbers, humanist, philanthropist and great friend. - Ali Dayan Hasan, Pakistan Director at Human Rights Watch

Ardeshir Cowasjee played a wonderful innings. So glad he was part of us. Must celebrate his life. RIP. – Zahra Hidayatullah