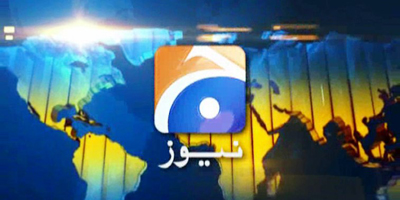 JournalismPakistan.com September 03, 2014
ISLAMABAD: Geo Television Network, still reeling from its wild accusations against a top military official as being responsible for the attack on presenter Hamid Mir, is seeking parliamentarians help to its their full transmission.

In a front page plea published in The News titled 'For God's sake help us dear parliamentarians', the network said it has been more than four months that all their channels are 80 percent off air while the remaining 20 percent have been relegated to the last numbers of the spectrum.
"This is despite the fact that we have paid a fine of Rs 2 crores in addition to a suspension of Geo Entertainment for one month and of Geo News for 15 days. This is unprecedented and unheard of," the network said.

It said they had suffered a loss of about Rs4 billion and expect a further loss of Rs 4 billion.

Geo's troubles began in the hours after the attack in April on Hamid Mir who was shot and injured by unidentified gunmen in Karachi. Soon afterwards the channel began claiming that the ISI head Lt. Gen Zaheerul Islam was responsible.

"The honorable Supreme Court and the Lahore High Court have both decided in favor and directed PEMRA to restore our all channels to their original positions but PEMRA is a helpless body. We have made numerous complaints to PEMRA but with no result.

"We are unable to pay salaries to our journalists/employees and pay our bills and our situation has reached the point that if our channels are not restored to their original positions immediately we would have no option but to shut down completely.

"We request you to please come forward to save Pakistan's oldest, largest, most credible and independent media.

"We appeal to this honorable house to please oversee the affairs related to the media in Pakistan to secure the people's right to know as guaranteed by the Constitution and to ensure its freedom from the individuals who have no constitutional right to control it."