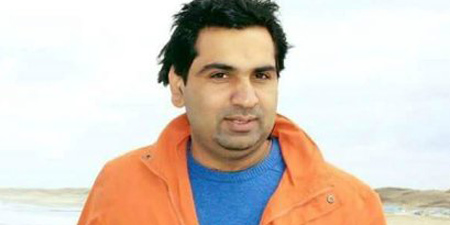 JournalismPakistan.com February 09, 2017


A Pakistani activist abducted last month has broken his silence on his weeks-long disappearance, but is refusing to point fingers at his abductors.
Ahmad Waqass Goraya was among five activists who vanished in early January.

Human Rights Watch, opposition lawmakers and activists have said their near simultaneous abductions pointed to government involvement.
Goraya was freed at the end of January along with at least three others and swiftly fled back to the Netherlands, where he has lived for the last decade.
"I felt I would never come back, I would never see my son and family," the 34-year-old IT worker told AFP during a phone interview in which he frequently became agitated.
Goraya, who like the other activists criticised religious extremism and the military establishment, refused to say anything about his captors or describe what happened during his ordeal, which began after he was abducted on January 4 shortly after leaving his family home in Lahore.
But he angrily rejected accusations that he was a traitor for daring to be vocal about alleged abuses of power in Pakistan, insisting he was a true patriot.

"Nothing was against Pakistan, nothing was against Islam, I was critical of policies because I want to see a better Pakistan," he said, adding in a later message: "We want a Pakistan with rule of law".
Goraya also said he fears that a virulent ultra right-wing campaign to paint him as a blasphemer while he was missing has followed him to Europe.
The charge, which engulfed Pakistani social media and was repeated by mainstream television hosts, is an incendiary one that can carry the death penalty.
Even unproven allegations have caused mob lynchings and violence. At least 65 people including lawyers, judges and activists have been murdered by vigilantes over blasphemy allegations since 1990, according to the Center for Research and Security Studies.
Goraya said allegations of blasphemy had surfaced on social media sites frequented by the Pakistani community in the Netherlands, prompting him to seek police advice.
"I'm looking over my shoulder - I have been warned by people it is a crazy world."

Pakistan has had a history of enforced disappearances over the past decade, but they have mainly been confined to conflict zones near the Afghanistan border or Balochistan.
Campaigners and opposition politicians believe the disappearances in January were part of a new strategy by the military to stamp out criticism and dissent online.
Officials have denied any role in the disappearances, which sparked protests in cities across the country by progressives concerned that the space for free speech is shrinking.
But, said Goraya, they have had their intended chilling effect.
"Hundreds of our friends deactivated their (social media) accounts, their pages," Goraya said, adding that well-known liberal blog "Roshni" (whose name means "light" in Urdu) was among those deleted, despite the fact its administrator was based in London.
His three-year-old son, meanwhile, has been deeply traumatised by his father's weeks-long disappearance and its impact on his family.
"What can you tell a three-year-old kid, all he can see are his mother and grandparents screaming and crying," Goraya said.
He described how the once quiet child now lashes out. "He's yelling and slapping and beating - that's what I would say is the worst loss I suffer."
Goraya said he has spent almost a decade in the Netherlands but had come to Pakistan in late 2016 to gauge the possibility of returning to Lahore with his family once his wife had completed her PhD studies.

"I could have applied for Dutch citizenship after five years but we never went that way - it would mean giving up my Pakistani passport," he said.
"The plan was to move permanently back to Pakistan. But now we have to replan our whole life." - AFP