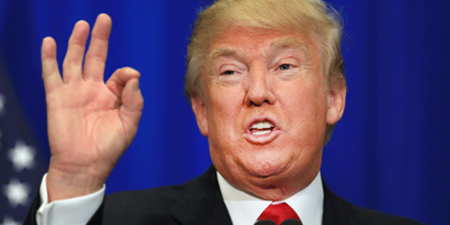 JournalismPakistan.com November 10, 2016


ISLAMABAD: Donald Trump's victory in the US presidential elections has led to shock, awe, protests, and similar headlines in some of the major newspapers around the world.

Obviously using triumph as a rhyming word was too much to resist. The Washington Post and The New York Times came up with similar banner headline – Trump Triumphs. On the other hand the headlines of USA Today and New York Post simply stated: President Trump.

Boston Globe and Chicago Tribune were shocked by the polls' outcome. They decided to express it as A Trump Shocker and Trump Shocker. Another common word to describe the victory was 'stunning'. For Los Angeles Times, it was Stunning Trump Victory while for Herald Boston said it was a Stunner.

Daily Telegraph's special report has three large alphabets W.T.F splashed on the front page. The words were explained as Will Trump Flourish….or fail.

However Guardian did not try to look for any superlatives in describing the victory. It simply highlighted the situation – Trump defies expectations on desperate nightDemocrats.