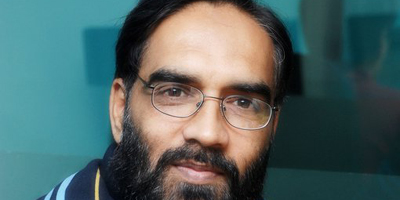 JournalismPakistan.com July 12, 2012 Steve. M

ISLAMABAD: There are days when one does not want to face the newsroom and the thought of being a journalist is depressing. There can be a hundred thousand reasons for this. There's no telling what. On such days one wishes he was anything but a journalist.

Bikram Vohra, the former Editor of Khaleej Times and the Dubai newspaper's current Senior Editorial Advisor, would quite often tell the news desk: "I wish I could take up farming; wouldn't have to see your long faces." He'd have a dreamy look in his eyes, almost as if he was picturing himself as a farmer.

Coming from the editor of the Gulf's former No.1 newspaper, this desire never failed to surprise newcomers to the desk. They never quite understood he didn't really mean it. We just took it in our stride knowing it was never going to happen. It was what it was… a dream and besides Bikram loved what he did. Between the Lines, his weekly column, was a must read in the nineties for anybody living in the UAE. http://articles321.blogspot.com/2010/10/when-i-am-64-bikram-vohra-between-lines.html

So when a recent colleague of mine, a news editor of some standing, suddenly quit his job and took to farming, my first thoughts were of Bikram. Opportunity missed!

Anyway, my good friend Azhar Malik of the late 'city-centric' Dateline Islamabad decided he'd had enough of newsrooms and the 'watch your back' syndrome that goes along with the news editor's job.

Azhar took time off, just before the Dateline met its expected end, and decided he wanted to do something different. After mulling over a short list of possibilities he decided to put his all in farming garlic.

Quite a deviation for somebody who'd excelled in an atmosphere dominated by cut-throat politics and meeting deadlines. Somehow, I just couldn't picture this rather laidback man confining himself to the physical rigors of farming.

Born in the Nowshera district of Khyber Pukhtunkhwa, Azhar began his career in journalism with Pakistan Press International (PPI) in 1988 as a trainee reporter-cum-subeditor. Two years later he joined the Pakistan Observer as a subeditor in 1991 before moving on to that media nursery, The Muslim, in 1995 where he worked for around two years.

Over the next decade he worked in The Nation, The News and Dawn, where he was news editor, before leaving to work in the same capacity at the Dateline.

So it was difficult for me to imagine him as a farmer, even though he insisted, "I'm a farmer now boss; I don't have to answer for other people's mistakes. I don't have to listen to people who do not know about the profession and yet insist they are right; I'm my own man now."

So I congratulated him. "How did it all start?" I asked.

"Last year when the Dateline was in trouble and the big boss was not happy with me sporting a beard, I took five days off, leased a farm house for three years and decided I was going to grow garlic. In fact I grew three different varieties the first time round. I purchased local garlic and imported 200kgs of Chinese garlic which I then planted on the 12 acres I had leased," Azhar briefed me.

"Wasn't that risky?"

"Of course, I had never done anything like it in my life before. But I worked hard in the fields alongside my hired farm workers from morning till the sun set and we sowed all 12 acres. The rest I left to Allah and He was very kind to me."

"But how did you decide on growing garlic?" I asked. "Why not some other crop?"

"I had an interest and studied about it online. Armed with the information I had, I set forth. I also got videos and other literature about garlic farming. Now I'm developing my own website for others to benefit from my experience," Azhar explained.

I now know from Azhar that his first harvest turned out to be a bumper one and that he has leased more land and planted more garlic. He also informed me he had planted cauliflower and though this had also been hard work, he had enjoyed the physical part very much.

"I don't regret leaving the news desk behind. This is so much more satisfying, so much more rewarding," he told me happily.

Good luck Azhar. Stay blessed!