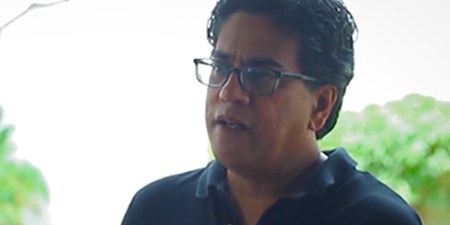 JournalismPakistan.com October 15, 2021


ISLAMABAD—Kamal Siddiqi, a former editor of The Express Tribune, has resigned as director of the Center for Excellence in Journalism at IBA in Karachi after a five-and-a-half-year stint.
"I have resigned from my position as Director CEJ and would like to take this opportunity to thank all my IBA colleagues for their encouragement and help during my five and a half years here," he announced through a short note.
He pointed out that CEJ moved on to becoming an independent profit-making center from a dedicated donor-funded entity that imparted quality training to journalists from all over Pakistan and running a Masters in Journalism (MSJ) program.
Other services were a certification program for journalists and a counseling service to address mental health issues.

"We took trainings out of the campus and engaged with leading names in the corporate sector to work with their staff and with also working journalists who covered areas in which these companies operated."
CEJ also forged some essential national and international partnerships with universities, think tanks, media associations, and bodies. Today, our advisory board comprises some of the leading names in Pakistan's media industry.

"We have evolved to keep up with market expectations. We offer trainings on topics that are much in demand in the job market, like mobile journalism, digital journalism, and data journalism. We have also offered fellowships, mentorships, and had some important conversations via webinars and talks and have produced two important publications – one on the labor market and how it is reported in the media and the other – a first-time report on the state of mental health within the media community of Pakistan. CEJ was part of several awards that helped recognize the brilliant work done by journalists all over Pakistan."

Siddiqi said that the bottom line was profit, and CEJ remained profitable throughout his tenure. "We managed to set aside an endowment fund as well."

"But our biggest contribution is the 50 odd students who have graduated from the Masters in Journalism program, and I am sure will attain great heights in the profession. This and 2,500 plus working journalists whom we have trained in different courses at CEJ."
"It has been a long journey but not one without its bright moments. But now it's time to say goodbye."