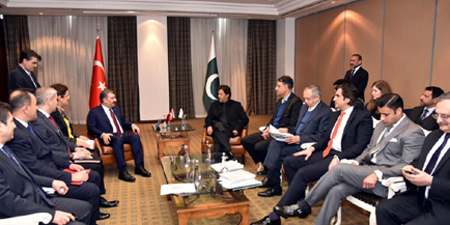 JournalismPakistan.com January 05, 2019


ISLAMABAD - Some journalists have objected to Prime Minister Imran Khan and a few members of his delegation seemingly oblivious to diplomatic etiquette in an official meeting in Turkey.
Talat Hussain, formerly of Geo News, posted the picture in which the prime minister in a shalwar kameez and his two advisors Razzak Dawood and Zulfi Bukhari are seen sitting crossed legged. On the other hand, members of the Turkish delegation sit appropriately.
Hussain, bitterly opposed to Imran Khan and his party, tweeted: "Money, position, status - nothing can teach you manners if you have no sense of occasion."
Salman Masood, the New York Times correspondent in Islamabad, felt that Pakistan's delegation did not care for proper diplomatic etiquette. "Turks are sitting with proper diplomatic etiquette. Pak side, unfortunately, seems oblivious to diplomatic norms of how to sit in state meetings."
Author Ayesha Siddiqa expressed surprise that "Khusro Bakhtiar doesn't know the protocol despite having worked as Musharraf's minister of state for foreign affairs?" And she thought that Zulfi Bukhari is dozing off.
Pakistan Peoples Party Senator Sherry Rehman also did not like the postures of Pakistani delegation. "Upsetting to see Pak represented like this. Maybe there's a good spin, but I can't see one. The Turks are sitting as per regular norms, and they're a formal culture with serious traditions, from the Ottomans to Ataturk. What is our side trying to communicate? Too much kool-aid?"
Mariana Babar maintained the issue of the prime minister sitting cross-legged in official meetings had been raised on some occasions. "This point has been raised so many times. There are flags and leaders your shoes are pointing at. Etiquette starts when you are very young but never too late to start."