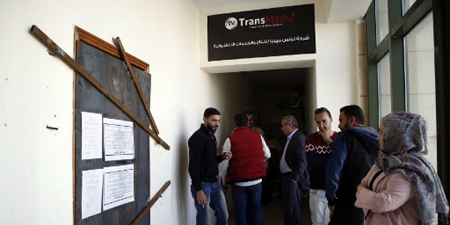 JournalismPakistan.com October 20, 2017


BRUSSELS - At least eight Palestinian TV and media production companies were raided on October 17 in the West Bank and are being forced to close for six months. Two journalists were also arrested.
Israeli forces accuse the media outlets of incitement against Israel.
The International Federation of Journalists (IFJ) backed its affiliate, the Palestinian Journalists' Syndicate (PJS), in condemning such harassment against media and urged the Israeli authorities to honor rights to freedom of speech in the region and release the detained journalists.
Israeli military forces raided the offices of TV channels Al-Quds, Al-Aqsa and Palestine Alyoum, as well as production companies Pal Media, Trans Media and Ram Sats' in in the cities of Ramallah, Nablus, Hebron and Bethlehem, PJS reported. The equipment together with corporate documents was seized and two members of staff arrested.
Reports quoted Israeli officials accusing the targeted media of associating with Hamas and inspiring terrorists to commit attacks against Israel.
The PJS protested against the raid in front of the UN offices in Ramallah, where the head of the union, Nasser Abu Baker, said that it reinforces fears that these violations are part of the Israeli government's policies in restricting the Palestinian media.
"We condemn the Israeli systemic and repeated violence against Palestinian media and journalists," added Abu Baker, including the closure of several radio stations and confiscating equipment in recent years. The PJS offices remain available for the closed channels and companies to work in as part of the union's obligation in protecting media and journalists.
The IFJ joined the PJS in calling for an immediate and fair investigation into the use of military laws for the closure of Palestinian TV channels and media production companies.
"The Israeli government should stop using its arsenal of military occupation laws to strangle Palestinian media. It should stop its campaign of looting and closing media based on charges and evidence that have no chance of being accepted in front of its own courts," said IFJ General Secretary Anthony Bellanger. – IFJ media release/Photo: AFP