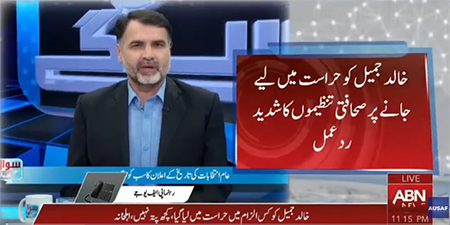 JournalismPakistan.com September 22, 2023


ISLAMABAD—The Federal Investigation Agency (FIA) has obtained a two-day physical remand of journalist Khalid Jamil, arrested under the PECA Act.
FIA detained Khalid from his residence on Thursday night. He is accused of spreading hatred against the army. FIA says the journalist has been arrested under Section 20 of the PECA Act.
Though FIA requested a ten-day physical remand of the journalist, his lawyer Naveed Malik opposed it and said that freedom of expression is the right of every Pakistani. Malik instead asked the court to vacate the case.
After hearing the arguments of the parties, Judicial Magistrate Shabbir Bhatti handed over Khalid to the FIA on a two-day physical remand.
Khalid 's various posts are circulating on the social networking site X, in which he has severely criticized the government and state institutions. He had criticized the state institutions over the death of Ammar Farooq, son of Pakistan Tehreek-e-Insaaf ticket holder Ibad Farooq, which allegedly led to his arrest.
Various journalist organizations of Islamabad and Rawalpindi have protested against Khalid's arrest.