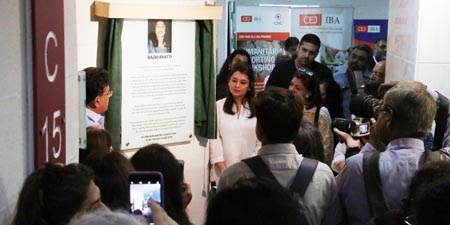 JournalismPakistan.com July 19, 2018


KARACHI - The Centre for Excellence in Journalism at the Institute of Business Administration (CEJ-IBA) in collaboration with the Razia Bhatti Memorial Initiative Committee inaugurated the Razia Bhatti Seminar Room on Thursday.
The lecture hall, located at the CEJ campus, is dedicated to the memory of the late Razia Bhatti, a veteran journalist who launched Newsline magazine in 1989 after years of working at the Herald monthly magazine.
In his opening remarks, CEJ Director Kamal Siddiqi remembered the time he had worked with Razia Bhatti. "Razia was a beacon for all of us. She worked with full dedication. I never saw her excited or scared when covering a story," he said. "The work Razia and Newsline Magazine has done over the years will never fade away."
Siddiqi thanked IBA Dean Dr Farrukh Iqbal, Associate Dean Dr Huma Baqai, IBA board of governors, communications head Malahat Awan, Aman Foundation's Ahmed Jalal and Umber Khairi, member of the Razia Bhatti Memorial Initiative Committee, who initiated the idea for dedicating a room for Razia.
Dr Baqai lauded Razia for the work she did at a time when the media was going through an era of oppression. "Mass communication is extremely important but you need to keep the true spirit of journalism alive and this is what the Centre for Excellence in Journalism is doing and this was what Razia was all about," she said. "I'm happy that IBA has dedicated this room to Razia. She fought back in a country that is not nice to women or journalists," she added.
Umber Khairi, a member of the Razia Bhatti Memorial Initiative committee, recalled Razia's role as an editor and how she launched Newsline after she was forced to resign from Herald due to editorial pressures.
"It's a wonderful day not only for Razia's family, friends, CEJ and IBA but it's a wonderful day to draft the mission of journalism as we are paying tribute to someone who was very keen in this profession," said Khairi.
"Her passion, commitment and courage as an editor who inspires everyone who works with her was incredible," she said. Razia was a person who led from the front without seeking the limelight, she added.
In his concluding remarks, Dawn Editor Zaffar Abbas said that, even at a time when the media was under censorship, Razia was one of the persons who still worked fearlessly. "I never had the opportunity to work directly under her, which was a bit unfortunate. However, whenever I approached her for help she was always ready to help me edit my work," he added. "Journalists should learn how Razia used to deal with limitations."
Later, Razia Bhatti's daughter, Sara Bhatti, unveiled a plaque detailing the life of her mother.
A Razia Bhatti gold medal for investigative journalism was also announced for the graduating Master's of Science in Journalism class at IBA. Newsline also committed to providing a long-term internship to CEJ students. – A CEJ-IBA media release