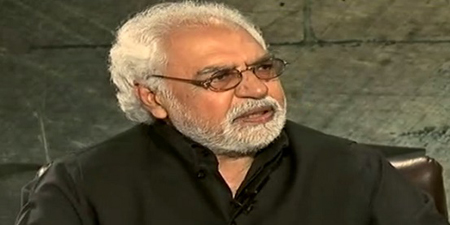 JournalismPakistan.com September 19, 2017


ISLAMABAD – Columnist Ayaz Amir, whose remarkable writings were a prominent feature of op-ed pages of Dawn and The News for many years, has quit writing columns in English.
That is bad news for thousands of his followers who just loved his writing and looked forward to reading his columns each week.
Amir told the website Danish.pk that he had stopped writing in English. He cited declining reader response for his decision. Until recently Amir had been writing columns in the English language for Dunya TV website.
Amir was quoted saying that some of his best work was for The Muslim and Viewpoint.
He served as a PML-N legislator from 2008-2013 in the National Assembly.
Amir was asked to leave Dawn after he decided to contest the National Assembly election from Chakwal in 2008.
Writing his 'last' column in Dawn on December 21, 2007 – Goodbye to some of this - he had hoped the separation would be temporary. It was not to be. "Contesting these elections, I am informed, spells the end of my long association with this newspaper. If it is to continue it will have to be in some other form. A harsh price to pay and, as I said, my heart is torn."
He said for most of his "adult life I have been associated with this newspaper, starting when the full glory of General Ziaul Haq's benign rule was upon this unfortunate land." Then he had described himself as "not a politician who has come to journalism but a journalist who has occasionally dabbled in politics."
Photo courtesy: zemtv.com