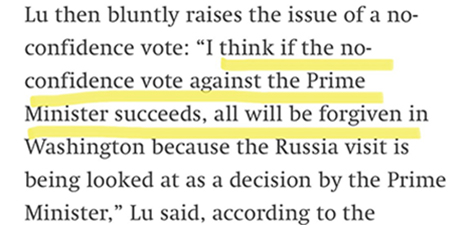 JournalismPakistan.com August 10, 2023


ISLAMABAD—Murtaza Hussain, one of the authors of The Intercept story on the diplomatic cipher, has denied the claim of The New York Times correspondent in Pakistan that the cipher was given to them by Pakistan Tehreek-e-Insaf (PTI).
Reacting to the story, Salman Masood, the correspondent for The New York Times in Pakistan and the editor of The Nation, claimed, "Taking things up a notch, PTI likely to be behind the leak of the controversial cable." He added that "Still, the contents don't prove a conspiracy but strained relations—and that was already known."
However, Hussain reacted sharply to the claim. He termed Masood's claim as false. "The @nytimes Pakistan correspondent is making a false claim suggesting that Imran Khan or members of his party were the source of our leak. I can confirm this is not true; if you have evidence to the contrary you are welcome to share it now, otherwise issue a retraction."
The Intercept story—"SECRET PAKISTAN CABLE DOCUMENTS U.S. PRESSURE TO REMOVE IMRAN KHAN"—has made public the text of the diplomatic cipher about the meeting between then Pakistani envoy to US Asad Majeed Khan and Assistant Secretary of State for the Bureau of South and Central Asian Affairs Donald Lu on 7 March 2022.
Former Prime Minister Imran alleged that the US was behind his government's change, which was removed through a no-trust in the National Assembly.
Ray Grim, the story's co-author, also denied Masood's claim. He asked the NYT correspondent to withdraw his claim. "I can say with 100% confidence that this claim from the New York Times is completely untrue. Khan was not our source. Neither was any other civilian. Our source was in the Pakistan military. If the Times has evidence to the contrary, publish it. Otherwise retract this."