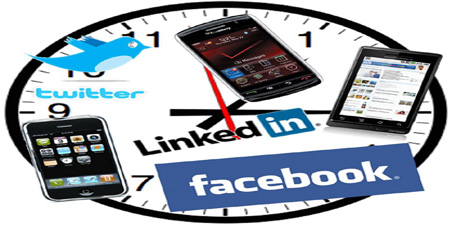 JournalismPakistan.com August 13, 2012
NEW YORK: The London Olympics may well be remembered as the event that drove home the power of social media — partly to the chagrin but mostly to the benefit of NBC, which controlled images of the games in the United States.
Twitter estimates there were more than 50 million tweets about the Olympics, at a pace of 80,000 per minute after Jamaica's Usain Bolt won the gold medal in the 200-meter sprint. Facebook saw the number of fans of Olympic athletes soar: American gymnast Gabby Douglas had 14,358 followers on July 27 and 540,174 less than two weeks later.
All of the activity pumped up interest in the games. NBC executives privately anticipated the London Games would have a smaller audience than the Beijing Olympics of 2008. Instead, the network's prime-time audience averaged 31.1 million people a night through Saturday, up 12 percent from Beijing.
Many factors surely drove interest, like compelling competition and the amount of coverage available on TV and online. Maybe a recession-weary world wanted a collective, uplifting experience. But the explosion of social media is the one big change in the media landscape that would explain the increased ratings, said Lee Rainie, director of the Pew Research Center's Internet and American Life Project.
Facebook had 100 million users four years ago and has 900 million now.
Usage estimates are still coming in, but it appears the US was not alone. The IOC estimates some 900 million people worldwide saw the Olympics opening ceremony. Viewership in Britain was more than the BBC expected. The number of Facebook followers for German gymnast Marcel Nguyen leaped from 7,567 to 179,441 in less than two weeks, according to Wildfire Interactive.
"Sports events are inherently social," said Justin Osofsky, Facebook's director of platform partnerships and operations. "We're never fans alone. We root together, celebrate together and sometimes commiserate together."
According to a Pew survey, 76 percent of Americans who watched NBC's coverage rated it as excellent or good. Nearly 8 in 10 Americans followed some of the Olympics either on TV or in some other fashion, said the survey, taken August 2-5.
There were 63.1 million live video streams downloaded, compared to 14 million in Beijing. The total number of video streams downloaded, live or otherwise, was 154 million, double Beijing. NBC said people spent an average of 30 minutes on its website, up from less than 12 minutes a visit four years ago.
NBC was particularly heartened by the enthusiasm shown by young people in the Games. Viewership among teenagers was up 27 percent from Beijing, with girls accounting for most of the gain. For kids aged two to 11, viewership was up 32 percent.
In Britain, the BBC received praise for its Olympics coverage, which included 24 extra digital channels showing live competition. It basically gave TV viewers the ability to program their own Olympics, which NBC only did for computer users. The BBC found that some 88 percent of Britons had watched some of the Olympics on their home turf.
The BBC, however, is a public television network funded largely by a $230 annual fee that television viewers provide while NBC is supported mostly by advertising revenue, and makes most of its money through commercials on its prime-time programming. -AP