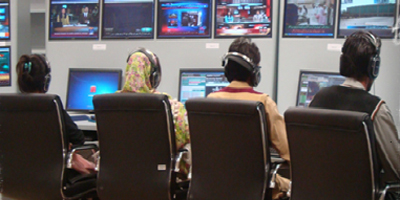 JournalismPakistan.com April 25, 2012
ISLAMABAD: The Pakistan Electronic Media Regulatory Authority (PEMRA) has issued a warning to satellite television channels, FM radio stations and cable TV operators over program/content violations.

The warning, from PEMRA's Director General (Operations), comes in the wake of public criticism of some news channels for showing images of those killed in the Bhoja Air crash last week in Islamabad.

All 127 people on board flight B4-213 from Karachi perished. What followed was madness as the channels in their bid to outdo competitors flashed images of dead bodies and grieving relatives. This outraged the public.

In an advertisement in The News, PEMRA said: "All licensees of PEMRA, notably the satellite TV, FM radio and cable TV operators are hereby warned to take cognizance of increasing public complaints against program/content which contains vulgarity, obscenity and abusive language; depiction of blood, gore and dead bodies; dramatization of crimes or tragedies; undue sensation through breaking news; intrusion to one's private or family life; excessive foreign/alien content; unethical content on in-house (CD) channels of cable TV and misleading advertisements.

Television channels were also accused of doing 'irresponsible journalism' when an AirBlue plane crashed into the Margalla Hills less than two years ago, killing over 150.

In November 2009, the kingpins of Pakistan's electronic media had met in Karachi and managed to work out a set of regulations for the coverage and telecasting of terrorism and violence-related events.

The bosses of Pakistan's TV channels decided not to air the kind of gory details that have been putting off viewers.

It was a mature and sensible move but unfortunately, the cut-throat competition meant the codes were never actually followed.