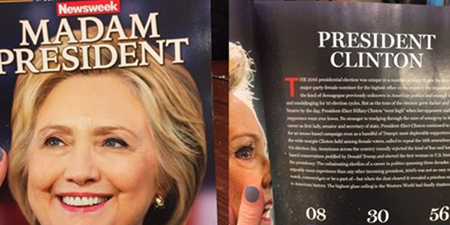 JournalismPakistan.com November 10, 2016


ISLAMABAD - Newsweek has had to recall 125000 copies in which the magazine declared Hillary Clinton victorious in the US presidential polls, The Guardian reported Thursday.
The issue declaring Clinton the winner carried the cover line: "Madam President: Hillary Clinton's historic journey to the White House."
The normal practice, The Guardian said, is to prepare two sets of copies covering the victory of both the candidates. However Newsweek's production partner, Topix Media, distributed only the Clinton issue to stores in the belief that she would be the winner.
The report said that although retailers were told not to put issues on sale prior to the election, a few copies were sold. "Like everybody else, we got it wrong," said Tony Romando, who is chief executive of Topix. "All wholesalers and retailers have been asked to return any issues they have as we need to clear room for the President Trump issue. We expect it to sell very well as there is obviously a great demand."
The Guardian recalled the famous occasion after the 1948 US presidential election when the Chicago Daily Tribune ran the headline "Dewey Defeats Truman".
In fact, Harry Truman beat his Republican challenger, Thomas Dewey. A copy fell into Truman's hands and he held it aloft, smiling at the mistake because the Republican-supporting Tribune had once referred to him as a nincompoop.