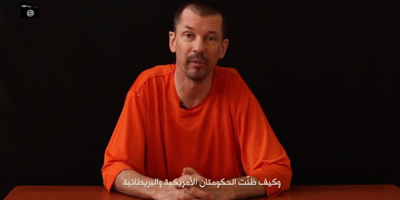 JournalismPakistan.com September 19, 2014
The International Federation of Journalists (IFJ) has joined international condemnation of the latest video released by the so called IS group in which British photo-journalist, John Cantlie, delivers a scripted message under duress while aware that his life hangs in the balance.

John Cantlie is a British war photographer and correspondent who was kidnapped in Syria in November 2012. "It is clear that this video, in which John Cantlie has been forced to deliver a message from ISIS knowing that his life is on the line, is clearly an attempt to intimidate and strike fear into journalists covering the region and to prevent them from doing their jobs and reporting the truth," said IFJ President Jim Boumelha in a press release.

"It is absolutely appalling that our colleague John, a journalist who was carrying out his job, has first of all been held captive for two years and is now being used as a propaganda tool in the political game being played by his captors.

"We repeat our demand for urgent international action from governments across the world to protect journalists reporting in Iraq and Syria who are courageously risking their lives to ensure the stories and hardships of people caught up in this conflict are told. Enough is enough – journalists must be free to report the truth and cannot be used as weapons of war".