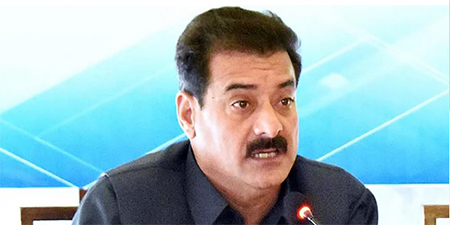 JournalismPakistan.com November 11, 2023 Published 26 days ago


ISLAMABAD—Author Dr. Ayesha Siddiqa is not happy with Naya Daur, an online TV channel run by journalist Raza Rumi, for trying to justify the interview of former PTI leader Sadaqat Ali Abbasi (pictured) by Adil Shahzeb on DawnNews.
The interviews of missing PTI leaders on mainstream TV channels have generated a debate regarding the role of journalists in going along with the state narrative and grilling a political leader under pressure to leave his party and politics.
Kamran Shahid of Dunay News conducted Usman Dar's interview at home while Adil Shahzeb quizzed Sadaqat in the DawnNews studios. This interview was held up for some days before being aired. Similarly, Muneeb Farooq interviewed Sheikh Rashid, chief of the Amami League.
In a post on X, Dr. Ayesha was incensed that Shahzeb maintained it was nothing new in Pakistani media, recalling how Hamid Mir and Salem Safi interviewed Osama bin Laden and Taliban spokesman Eshanullah Ehsan.
"I wonder why #Nayyadauttv has offered itself for this exercise of whitewashing all sins by offering interviews," Dr. Ayesha said in her post. She added, "OBL interview is another class & there are doubts about it. Ehsanullah Ehsan interview as problematic as Sadiq Abbasi's." Giving her verdict, she said, "This is pure dishonesty, not journalism." Dr. Ayesha is the author of the book Military Inc.
At the Pakistan Literary Festival in Islamabad earlier this month, Shahzeb was unhappy when journalists Matiullah Jan harshly criticized him for interviewing Sadaqat Ali Abbasi.
In an article in the Washington Post in 2022, Hamid Mir said he interviewed Osama bin Laden for the first time in 1997 in a cave in Tora Bora in Afghanistan. He interviewed him again a year later.
Photo credit: Geo.tv