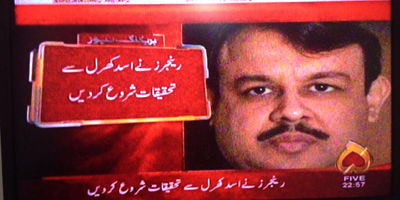 JournalismPakistan.com July 24, 2016


ISLAMABAD - Senior investigative journalist Asad Kharal reacted angrily Sunday after his images were flashed in the media, mistaking him for a man with a similar name who is under arrest in Sindh.
Channel 5 Television ran the journalist's picture and the story as breaking news saying paramilitary Rangers had started investigating Asad Kharal, arrested this week from Hyderabad. Urdu daily Dunya blundered too publishing Kharal's picture alongside the news about the arrested individual who is a close friend of Sindh Home Minister's brother.
"This is height of ignorance and irresponsibility," said Kharal who is a television anchor and head of investigations at ARY News. "It is a matter of concern and reflects the standards of our media."
As if two media houses were not enough, a third one also went wrong - Daily Ausaf publishing the wrong picture online, only to remove it later.
Kharal said that Dunya and Channel 5 had apologized and were holding internal inquiries. He said he had no plans to take any kind of legal action but had this advice for journalists: "Do not always trust Google."
The blunder, he said goes to show there are no content analysis departments and no quality controls in these news organizations.
Related post from JournalismPakistan.com Archives: