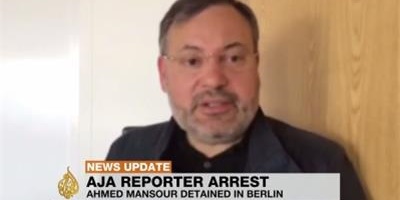 JournalismPakistan.com June 21, 2015
CAIRO: A prominent Al-Jazeera Arabic journalist was detained on Saturday in Germany over an Egyptian arrest warrant, the Qatar-based broadcaster reported, the latest in a long series of legal entanglements between Egypt and its satellite news channels.

Ahmed Mansour, a senior journalist with its Arabic service, was detained at 1320 GMT (9 am EDT) while trying to board a Qatar Airways flight at Berlin's Tegel airport heading to Doha, the station reported. It said he previously had been sentenced in absentia in Egypt to 15 years in prison over allegedly torturing an unnamed lawyer in Tahrir Square in 2011, a charge both he and the channel rejected.

While not identifying Mansour by name, German police spokesman Meik Grauer said authorities detained a 52-year-old Egyptian-British journalist and that prosecutors would look into the arrest warrant on Sunday.

In October, Al-Jazeera said Interpol had rejected an Egyptian request to put out a "red notice" for Mansour's arrest.

The network's Acting Director General Mostefa Souag called for Mansour's immediate release, in a statement released Saturday evening.

"Other countries must not allow themselves to be tools of this media oppression, least of all those that respect freedom of the media as does Germany," Soaug said.

Mansour recently conducted an interview with the head of the Nusra Front, the al-Qaeda branch fighting in Syria's civil war. In a Facebook post Saturday night, he showed German authorities an email from Interpol saying he was not wanted by them.

Egypt and Qatar have had tense relations since 2013, when the Egyptian military ousted Islamist President Mohammed Morsi amid massive protests. Doha is a strong backer of Morsi's Muslim Brotherhood. Cairo accuses Al-Jazeera of being a mouthpiece for Morsi's supporters, charges denied by the broadcaster.

In December 2013, Egyptian security forces raided a hotel room used by Al-Jazeera English, arresting three journalists and later convicting of them of being part of a terrorist group and airing falsified footage intended to damage national security in a widely criticized trial.

Acting bureau chief Mohamed Fahmy, who has Canadian citizenship, and Egyptian producer Baher Mohammed are free on bail amid a retrial. Australian journalist Peter Greste was deported in February. - AP