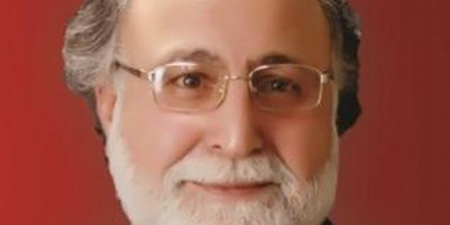 JournalismPakistan.com September 05, 2018


ISLAMABAD - Rehmat Shah Afridi is still thinking and planning to revive Frontier Post, the only English newspaper brought out from Khyber Pakhtunkhwa.
In an interview with BBC Urdu, the owner of Frontier Post who now lives in Lahore gave an account of how he started the paper, how he suffered losses and served time in prison. Afridi also talked about his days in Afghanistan during the Soviet invasion.
"Today the chain smoker Rehmat Shah Afridi is reviewing his successes and failures in Lahore," says the article-cum-interview by Haroon Rashid. It adds: "He seems to be constantly thinking about reviving Frontier Post."
The article carries a current picture of Afridi when he was in jail and one with former Prime Minister Benazir Bhutto.
Afridi gives all credit for making Frontier Post a respected name for bold reporting against the military government of Ziaul Haq to its first editor – Aziz Siddiqui. "I knew respected journalists in 1970s, including Faiz Ahmed Ahmed. I was close to Wali family. Ghani Khan would also help me to bring out a newspaper in Urdu. After the arrest of ZA Bhutto, I was not happy with the role of media," Afridi recalls the people and events that helped bring out Frontier Post.
Initially, he took the declaration of Urdu newspaper, Maidan. However, a senior journalist Murtaza advised to bring out an English newspaper. The friendship of Murtaza with then Governor Lt Gen Fazl-e- Haq helped to get the declaration for Frontier Post easily.
On 25 February 1985, the publication of Frontier Post started. "I heard everybody, including Faiz sb, praising the work of Aziz Siddiqui. He had served as assistant editor in Pakistan Times."
Afridi says he has never seen a powerful writer like Aziz. "A man of character and a saint, I would say."
Afridi met Aziz in Dubai and asked him to come to Peshawar, which he did. "I gave him a home, two servants and two cars. He returned one of the cars and kept the old one. He also returned the servants, saying his wife is a very good cook."
When Aziz was asked about salary, he demanded Rs11000. Afridi offered Rs25000. Finally, they settled on Rs15000 per month salary of the first editor of Frontier Post.
"All the credit of making Frontier Post a respected name goes to Aziz and his team. They worked honestly and hard."
But the editorial direction of the paper brought difficult days. "Yes, the news was against Fazl-e-Haq and Ziaul Haq. I was banned from all government offices and the paper did not get any government ads."
But he added he could not ignore the incidents like the Ojheri Camp blast in Rawalpindi in 1988. "I bought the arms stolen from the camp and the news was published. Of course, the general (Zia) did not like the news."
The article says Afridi was inclined towards Benazir and Pakistan Peoples Party, though the paper would publish news against everybody. Allegedly, according to the article, Nawaz Sharif when he became prime minister offered a deal to Afridi, which was turned down. "When I refused Sharif, I was implicated in drugs case and served more than nine years jail."
In 2016 the PMLN government cancelled the declaration of Frontier Post in Lahore, saying the owner is convicted. However, Afridi has got the declaration back.
In the end, the article says the story of Afridi is still unfinished, hinting that his dream of reviving Frontier Post may come true.
Photo: Twitter (@REHMATSAFRIDI)
Related stories from JournalismPakistan.com Archives:
Police beat up Frontier Post journalist