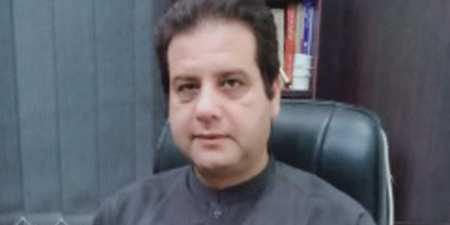 JournalismPakistan.com September 19, 2020


PESHAWAR—Dilroz Khan, Chairman of the Khyber Pakhtunkhwa Chief Minister's Complaint and Redressal Cell, abused and threatened Ali Akbar (pictured), a senior journalist and bureau chief DawnNews in Peshawar, for questioning about faulty buses of Bus Rapid Transit (BRT) service.
On Friday, Akbar said in a tweet, along with a picture of the official, that "This is Dilroz; the man behind the purchase of BRT buses… when asked him about the conditions of buses so he threatened me of teaching a lesson."
The Peshawar BRT, one of the major projects of the KP government, was launched on August 13. The project was completed at the cost of Rs 69 billion in 36 months. However, three buses have caught fire since its launch.
Talking to JournalismPakistan.com, Akbar said: "When I asked Dilroz about faulty buses, he threatened and abused me, saying I will teach you a lesson this time that you will remember."
Akbar said he did a story months ago about Dilroz's illegal deal of Auqaf's land linked with DHA. "He offered me money for not doing the story, but I filed it and foiled his game."
Akbar said that as a chartered accountant, Dilroz visited China in connection with the purchase of buses, and also inspected them.
Dilroz, he said, was appointed as chairman Chief Minister's Complaint and Redressal Cell by then KP government for three years, but he has been working in the same position for seven years. "The present government tried to remove him but failed," he added.